The winding route through the German countryside from Stuttgart to the small town of Mulfingen gives few clues that this south-west region is home to several companies that are global market leaders in their field.
But north-east Baden-Württemberg boasts several successful specialist firms which make up the Mittelstand, the base of small and medium-sized engineering businesses that are the backbone of the German economy and are envied around the world.
The fan and ventilator manufacturer ebm-papst is still headquartered in Mulfingen – a town with a population of about 3,600 – but its products are found all over the world in cars, household appliances and datacentres.
However, the energy crisis sparked by Russia's invasion of Ukraine, combined with labour shortages and post-pandemic disruption to supply chains, is piling pressure on these businesses, which are traditionally family-owned – and without the deep pockets enjoyed by Germany's corporate giants.
With Germany braced for recession this year, how this industrial heartland responds and adapts to the multiple crises will help shape not just the country's future but wider eurozone, too. Germany is forecast to be the third worst-performing G20 country (-0.3%) this year, according to the Organisation for Economic Co-operation and Development, behind Russia and the UK. Manufacturing accounts for about a fifth of Germany's economy, more than double 9% seen in the UK and France, and well ahead of Italy's 15%.
The biggest industrial employer in the region, about 4,000 work for ebm-papst in Mulfingen, the majority producing fans and motors for ventilation, refrigeration and air-conditioning technology.
Founded in 1963 by Gerhard Sturm, the company, which calls itself a "hidden champion", remains family-owned but has been run for the last year by the chief executive, Klaus Geißdörfer.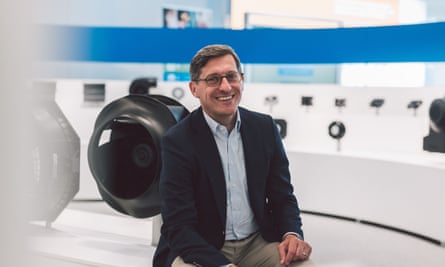 Under his leadership, the company decided to end the production of fans for cars. Instead it has switched staff to focus on new technologies, such as making ventilators for heat pumps and fans to cool datacentres.
"We said that we'd better focus on the things where we really are the best in the world," says Geißdörfer from his office at ebm-papst's headquarters.
"We decided to significantly increase our capacities, which we will ramp up next year, because at the moment we are not able to follow demand."
Despite profiting from booming sales in fans for renewable technologies, the past few years have not been plain sailing for ebm-papst. Covid lockdowns in China and the resulting supply chain disruption occasionally brought its German production lines to a halt, which Geißdörfer says "makes no sense".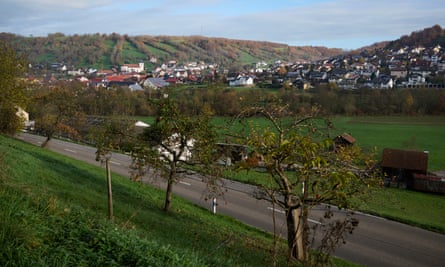 As a result, the company has worked to source more parts locally, close to its big factories in Germany, as well as in the US and China.
Just down the road in this economic heartland are the headquarters of the almost 80-year-old screw and fastener maker Würth, which sits near Bürkert, a manufacturer of measurement and control systems for liquids and gases.
These companies have helped south Germany become an industrial powerhouse, bringing prosperity and a sense of local pride to the area.
"The region has lots of world market leaders," says Donata Lell, who runs a local guesthouse and restaurant. She believes the industrial base boosts her customers' spending power: "People here earn more money."
Geißdörfer, who hails from neighbouring Bavaria, is convinced the small community of Mulfingen is a good place to run a manufacturing business.
"We have smart people here. I like the spirit people have here, they are very enthusiastic," he says.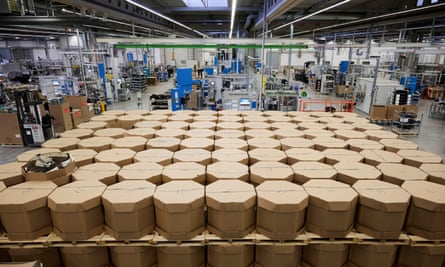 But does the company have enough of those people for it to meet growing demand? Despite Geißdörfer's positivity, ebm-papst has difficulties finding staff with the right skills, as well as problems getting hold of components, such as semiconductors.
Ebm-papst has tried to solve its worker shortage by offering some remote working to staff in administrative roles, plus free bus travel to work for employees who live within a 40km (25 mile) radius, a perk currently used by about 1,500 people.
Amid the company's cost pressures, and higher prices demanded by its suppliers, staff say they are struggling with the cost of living crisis.
Employees on the factory floor have raised their personal financial difficulties directly with Geißdörfer.
"I had people coming to me and saying 'I cannot buy any Christmas presents for my children any more'," he says. "I talk to people, and they say, 'I cannot afford vacations any more'."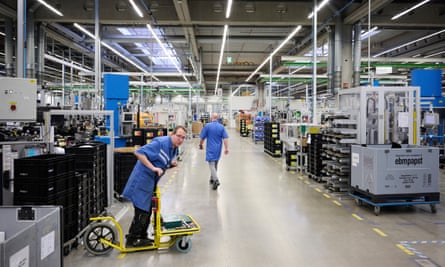 During the summer the company paid staff an extra €2,500 in cost of living payments, made in five monthly €500 instalments from October onwards.
"We stay close together with our people, and we support them in tough times and we go through crises together and try to find a way to handle it," Geißdörfer says, describing this as a strength of the Mittelstand.
"That's the positive thing with this kind of family business structure we have in Germany. I see also other companies doing similar things."
Yet that might not be enough. The IG Metall metalworkers' trade union, the country's largest, already represents workers at ebm-papst's other manufacturing sites in Germany, but not at its main site in Mulfingen, as a result of a historic work agreement. It is working to get its foot in the door there too, says Uwe Bauer, IG Metall's representative for the Schwäbisch Hall region.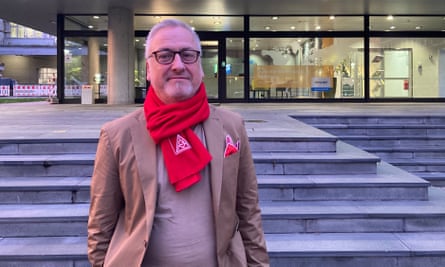 Bauer says the union has recruited several hundred members in Mulfingen in recent months, as workers realise full employment locally has created "an employees' market".
"Businesses have to rethink what to do about skilled workers," Bauer says.
"We get a lot of requests about which companies are bound by collective wage agreements. Wages play a role, but so do regular working hours," Bauer says.
Ebm-papst's pay offer nationally is broadly in line with the collective wage agreement deal struck between IG Metall and employers in Baden-Württemberg in late November, although the workers in Mulfingen are not subject to this agreement.
The pay deal, which sets the benchmark for wage increases for almost 4m metal and electrical sector workers across Germany, increases workers' wages by 5.2% from June and 3.3% from May 2024. In addition, they will also receive a €3,000 "inflation bonus", as the union calls it, which is tax-free and payable in two instalments in March 2023 and 2024.
The agreement is generous by historical standards, but still drew some criticism for coming in below inflation, when the annual rate stood at 10% in November, according to official statistics.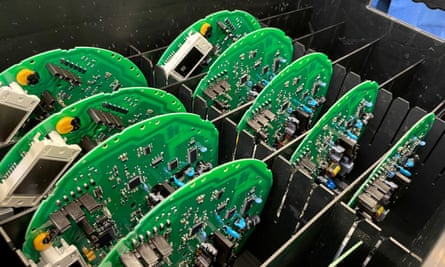 While pay matters are settled for now, sourcing parts remains a challenge amid a global shortage of semiconductor chips since the start of the pandemic.
In the race to obtain these vital components, Mittelstand firms find themselves unable to compete financially with the country's largest manufacturers, particularly carmakers.
"As a company we can grow faster if we can get more semiconductors," says Geißdörfer. "Somehow, we compete. But the industry is competing with the automotive industry, the solar industry and the renewable energy industry, and we all need the same kind of electronics."
The government should do more to support the country's vital network of small and medium-sized companies, he says, particularly with soaring energy costs, which Geißdörfer believes are making European companies globally uncompetitive compared with Asian or American rivals. Recent falls in wholesale energy prices have offered only a glimmer of hope.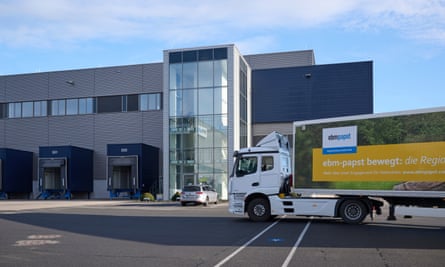 "I really have worries about German smaller and mid-sized companies that heavily depend on energy. They have real problems at the moment to work to face those huge energy costs increases."
While he welcomes government support with energy bills, Geißdörfer and other Mittelstand bosses fear Berlin does not have a clear industrial strategy, particularly while it weans the country off cheap Russian gas. Angela Merkel's government's decision to turn off its nuclear power plants after the 2011 Fukushima disaster in Japan has left it exposed to the Kremlin's weaponisation of gas.
"In Germany, we need to reinvent ourselves," says Geißdörfer, acknowledging the geopolitical challenges, including the energy transition, and Brexit.
"We are still strong enough to have sufficient money and we can afford it, but we need to do this fast, to think about how to have a stable economy going forward. But it is one minute before midnight."