Refresh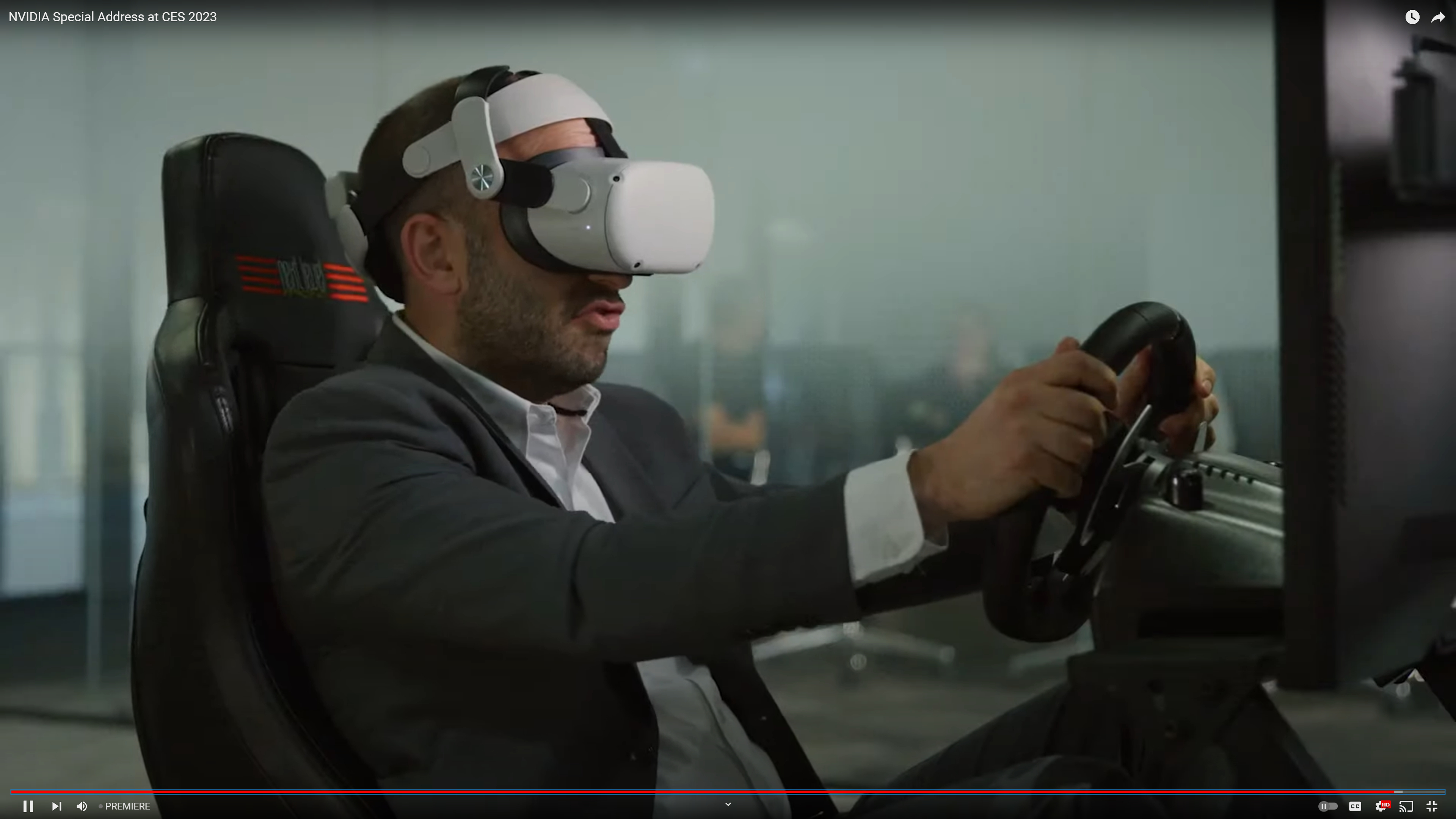 Wrapping things up, we have Nvidia Drive Sim, which now has VR support so manufacturers and car buyers can configure and try things out before actually creating or buying a new vehicle.
And that's it. Have a great CES, and we'll have plenty of more content over the coming days — including that RTX 4070 Ti review once the embargo is done. Stay tuned!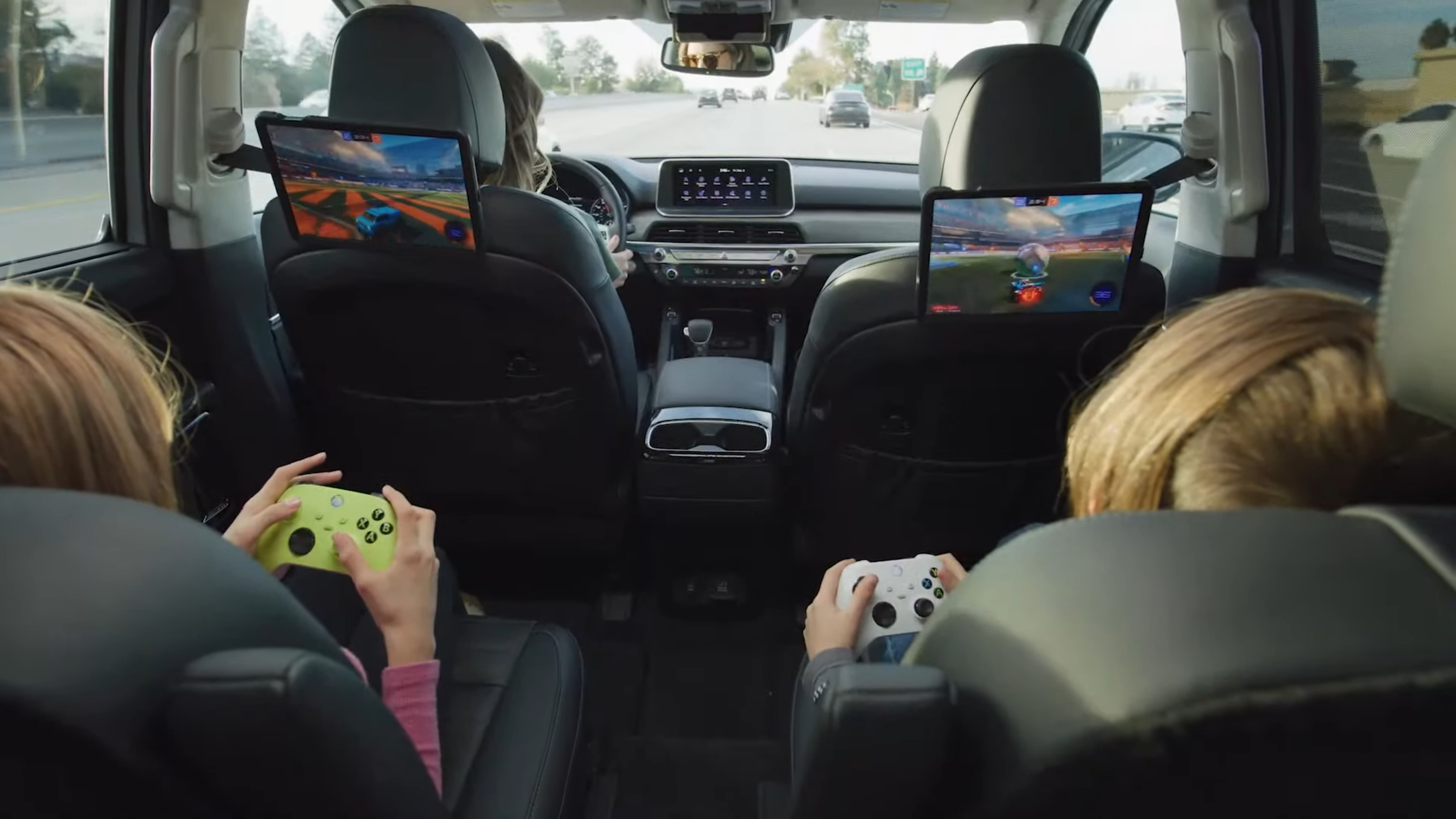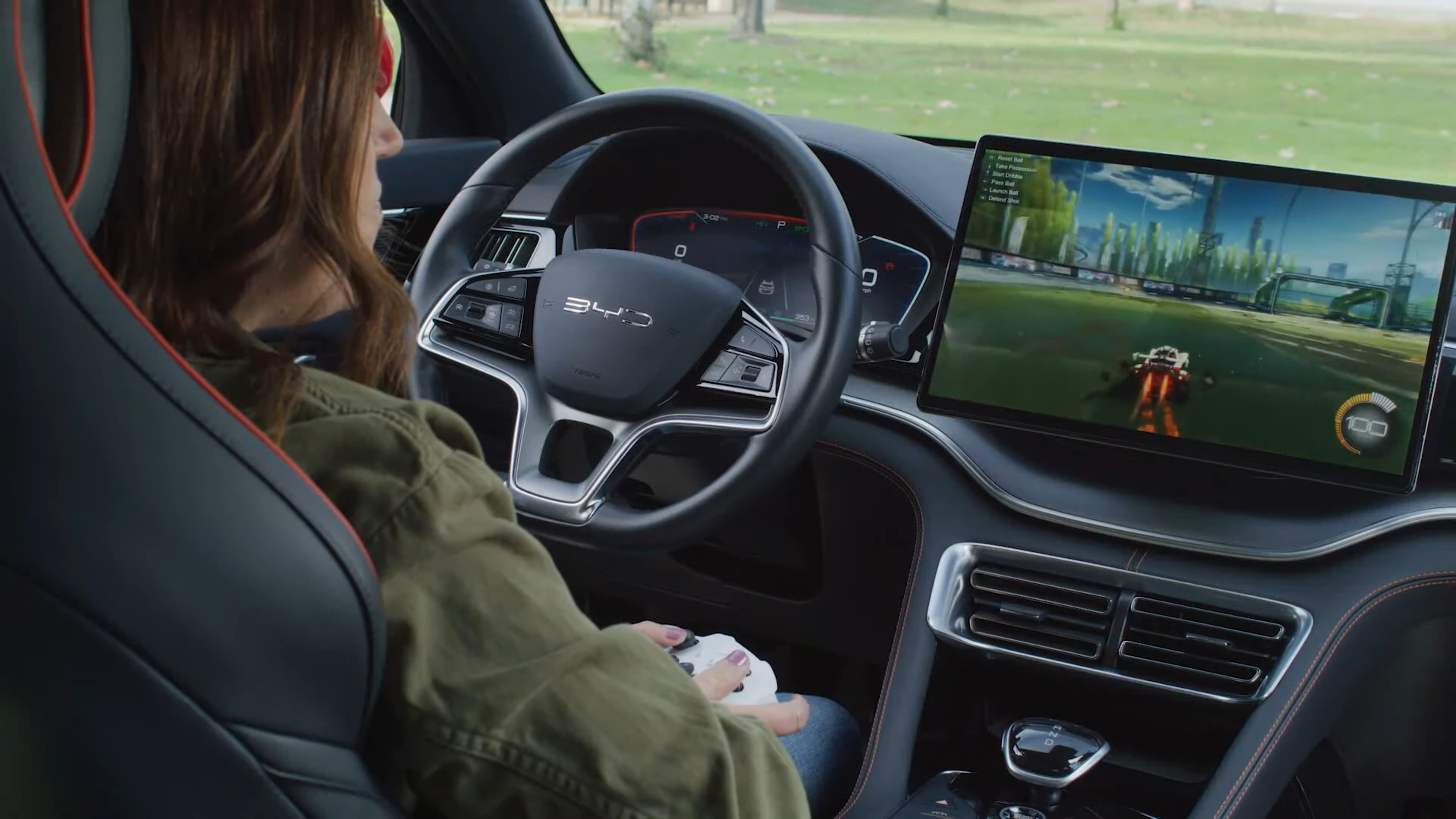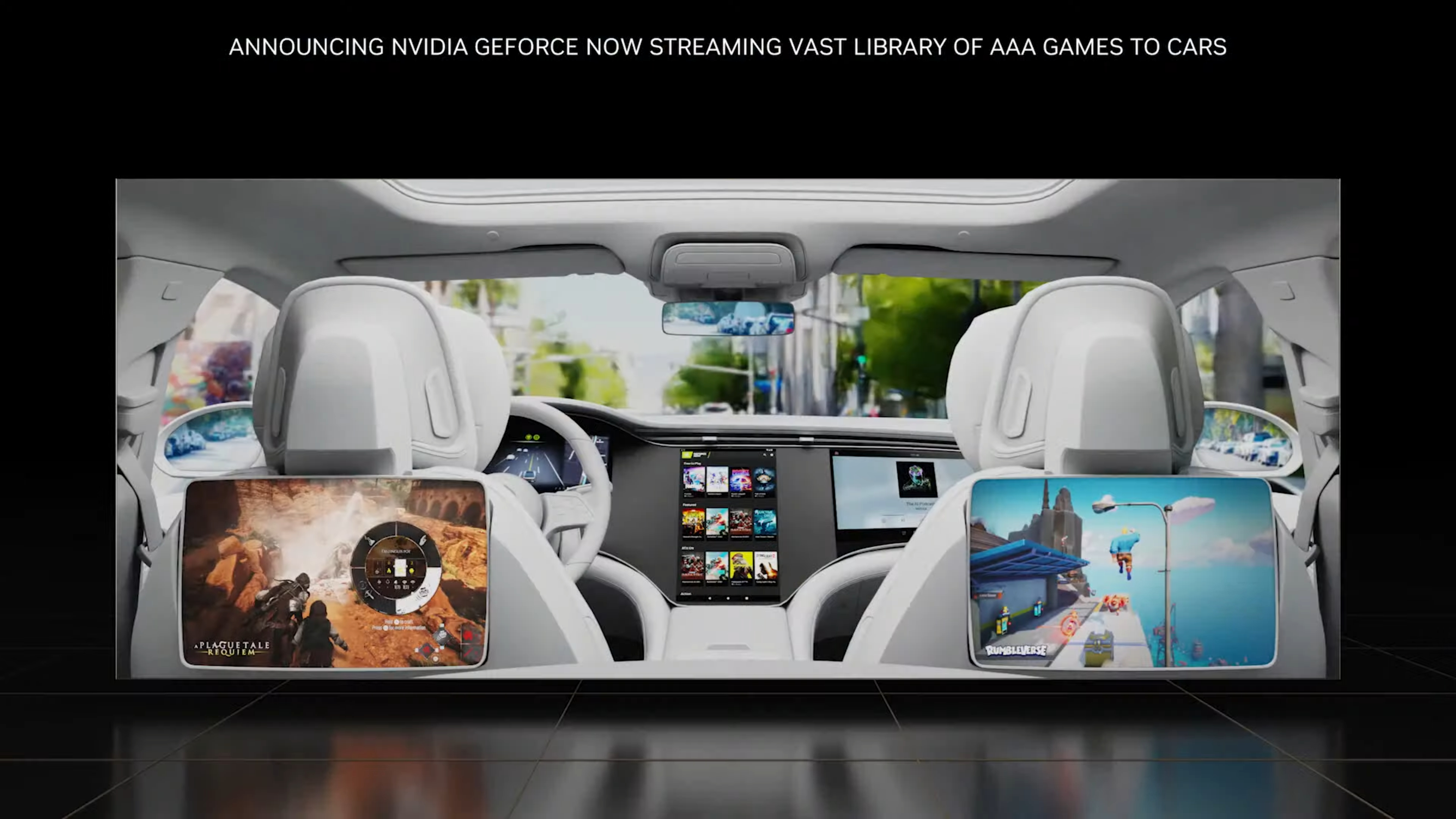 And what do you do for all those people waiting to charge their electric vehicles? Why not add GeForce Now support to the car! Just… don't play games while you're driving, and hopefully you have a good internet connection to make this work.
In a pre-briefing, Nvidia said you need a "reliable" 4G or 5G connection for GeForce Now in a car. Since one of the scenarios is to use it while you charge your vehicle, that's perhaps a better scenario for having a reliable connection. Your kids in the backseat playing games while on a cross country road trip? Not so much.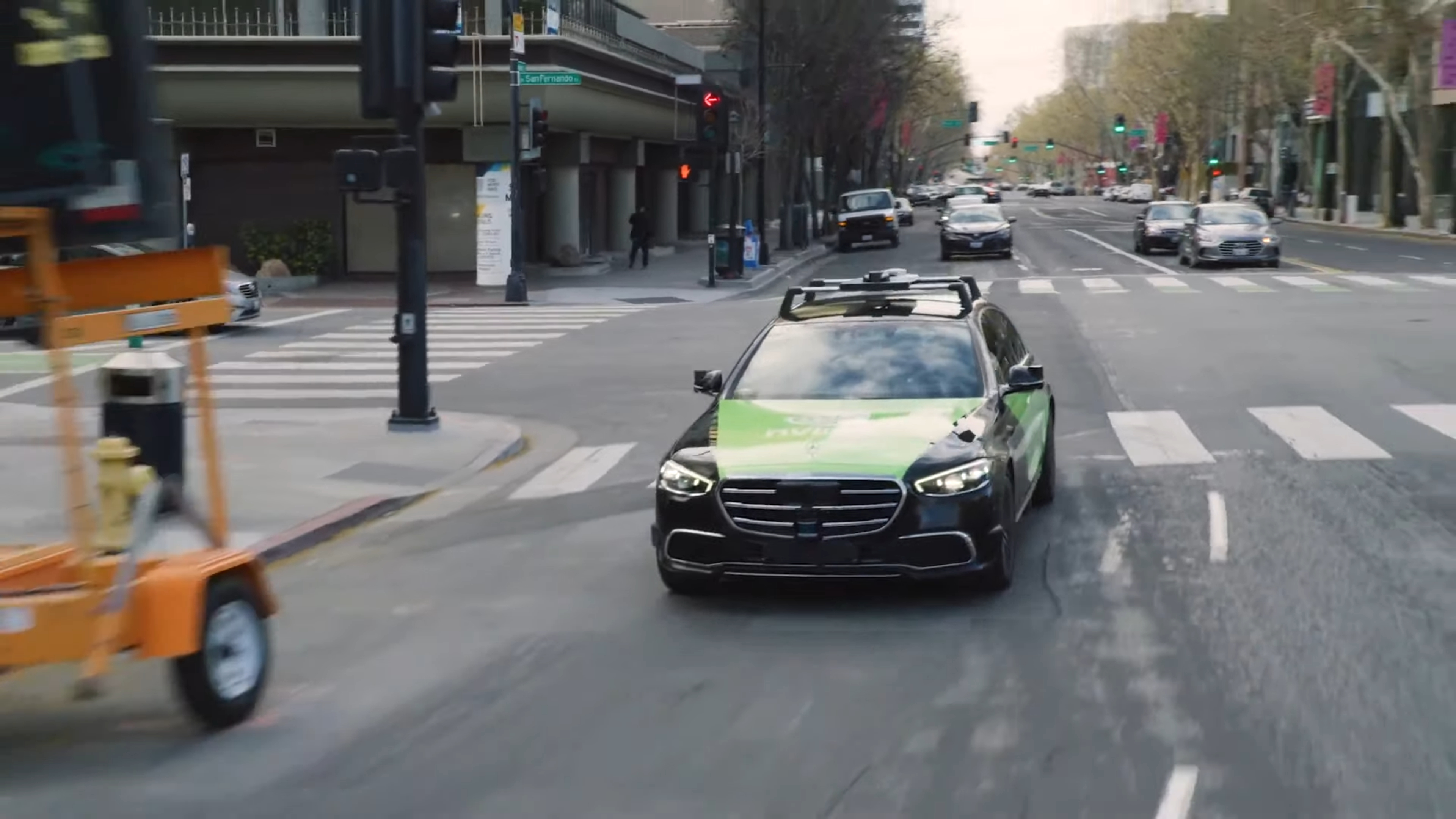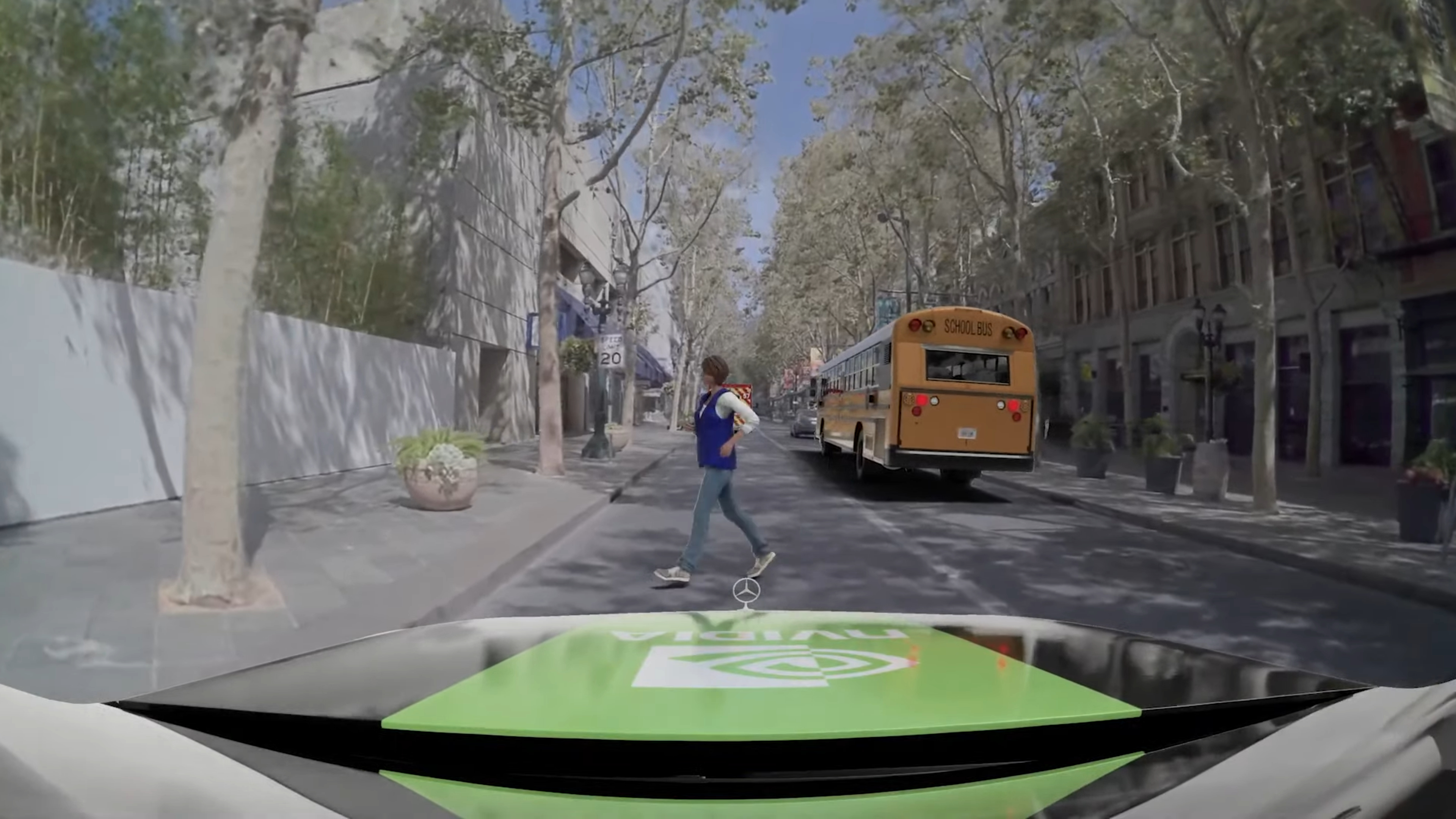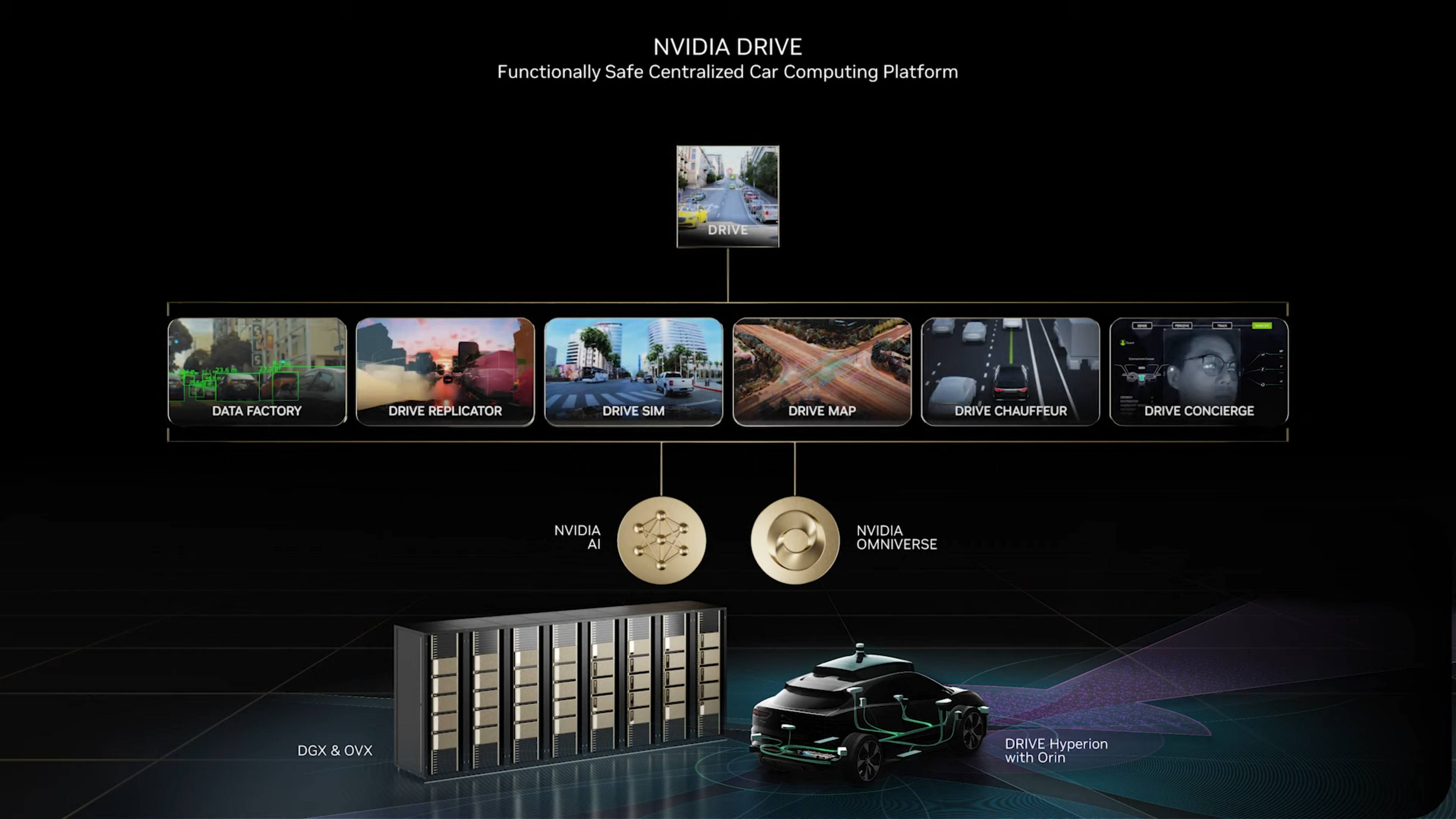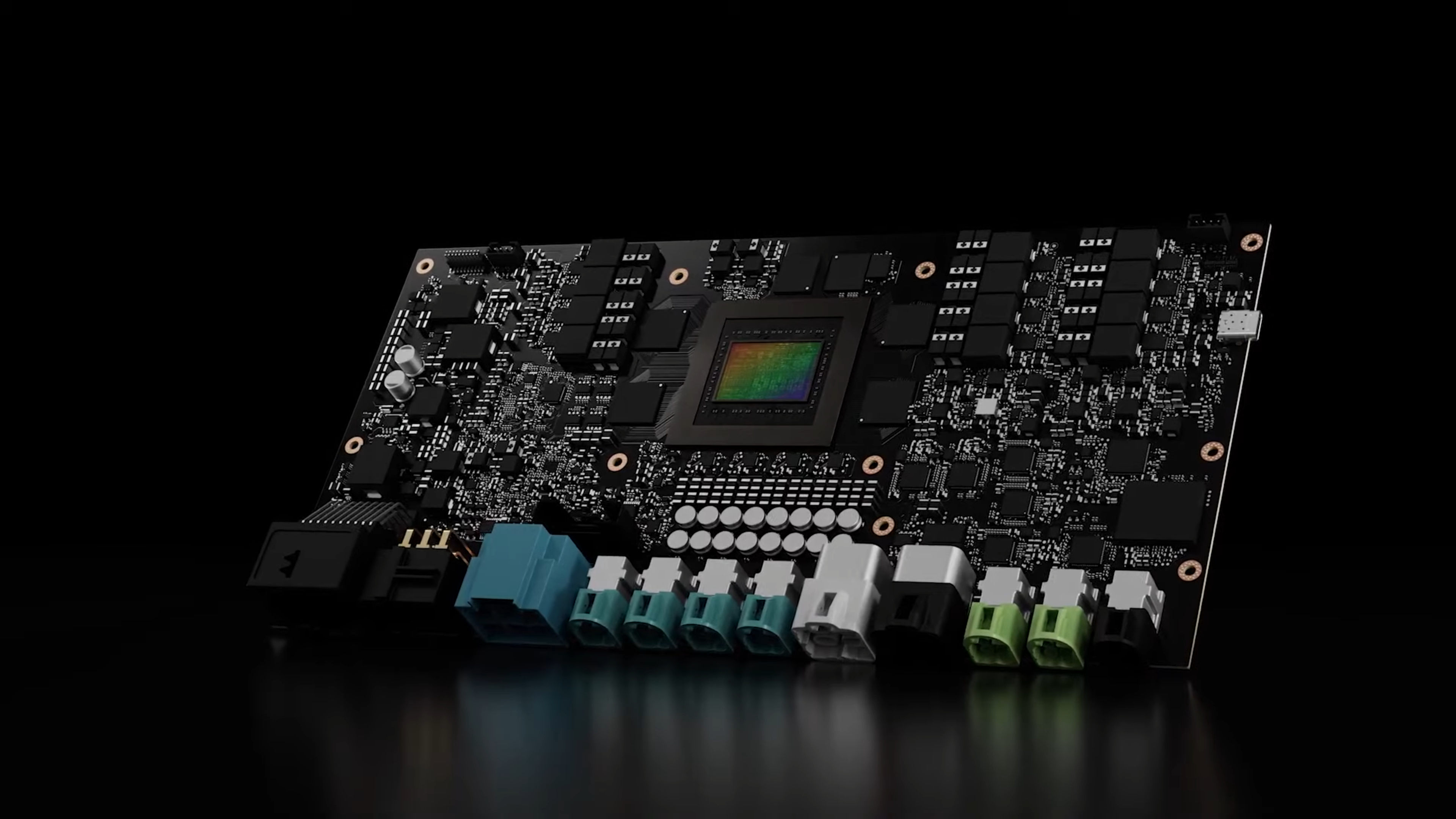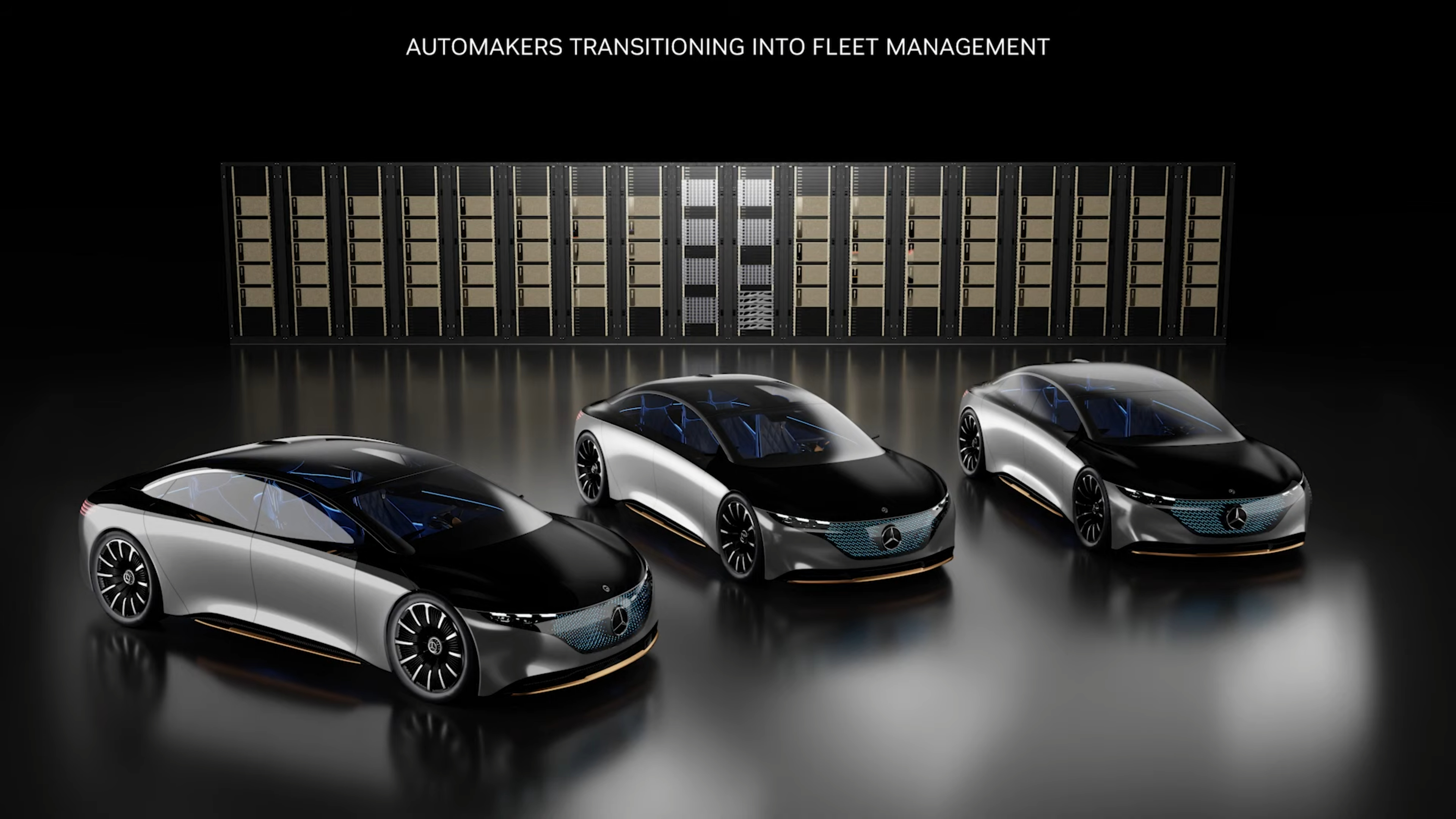 As expected, autonomous vehicles are another big topic for Nvidia, starting at about 40 minutes into the main video. New hardware, new sensors, and more. There's a lot of growth in the autonomous vehicles area, as well as electric vehicles. Nvidia's Drive platform is designed to support all of this, along with management of upgrades for existing vehicles.
Along with this, a big announcement is that Nvidia will be partnering with Foxconn to provide its Drive Hyperion platform to customers. This will be a configurable solution, so the car manufacturers can select difference sensors, cameras, and other features.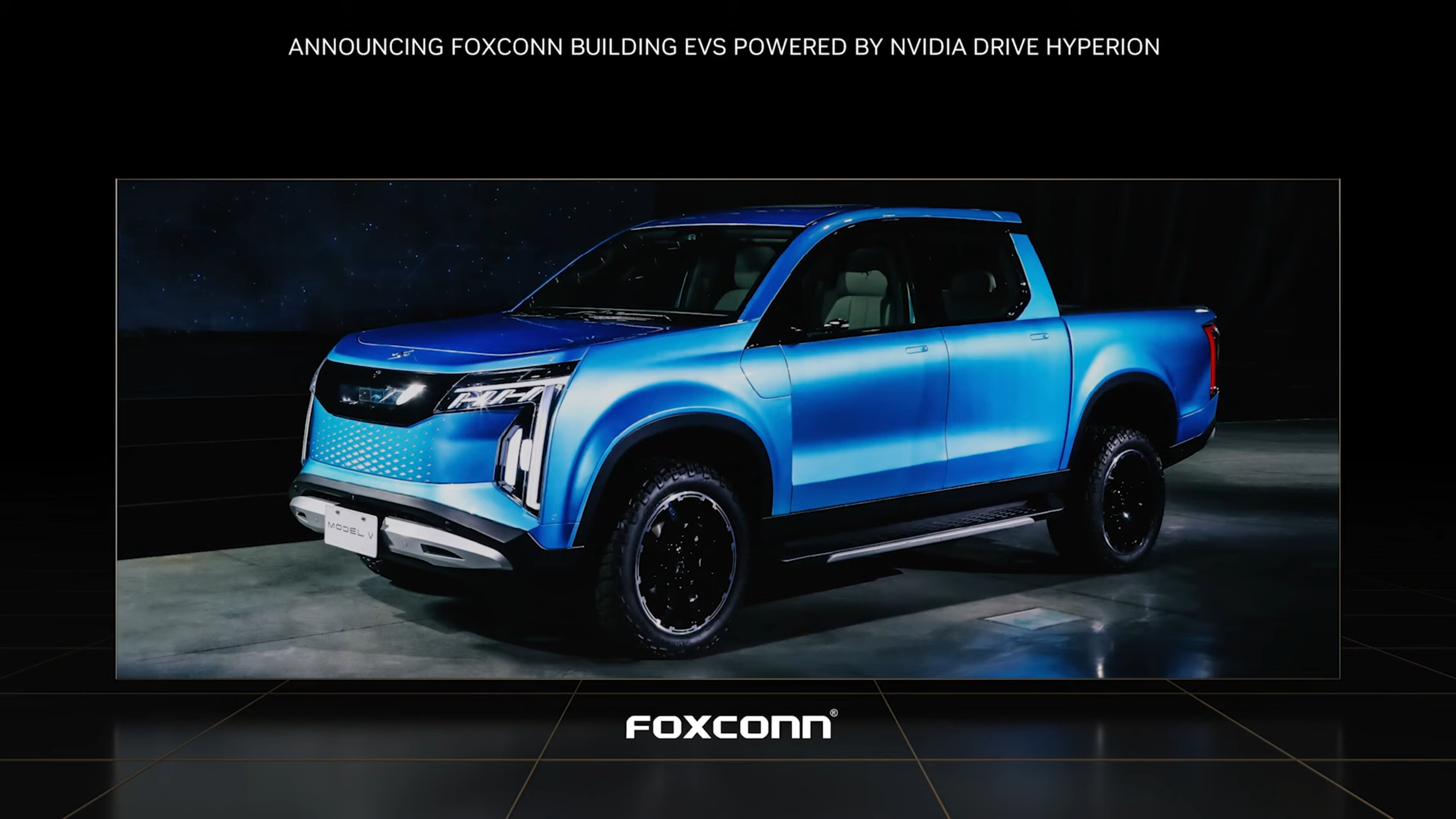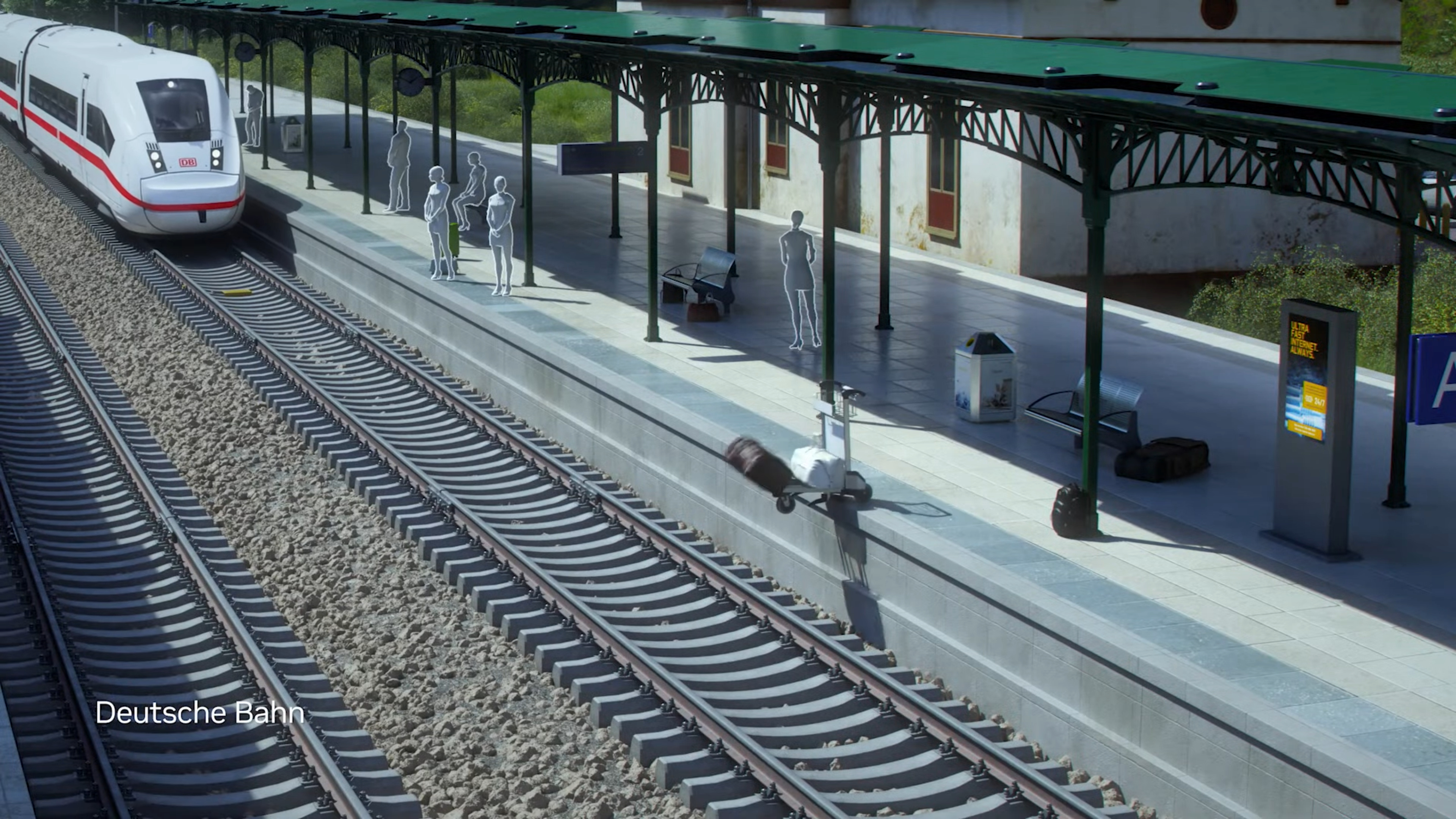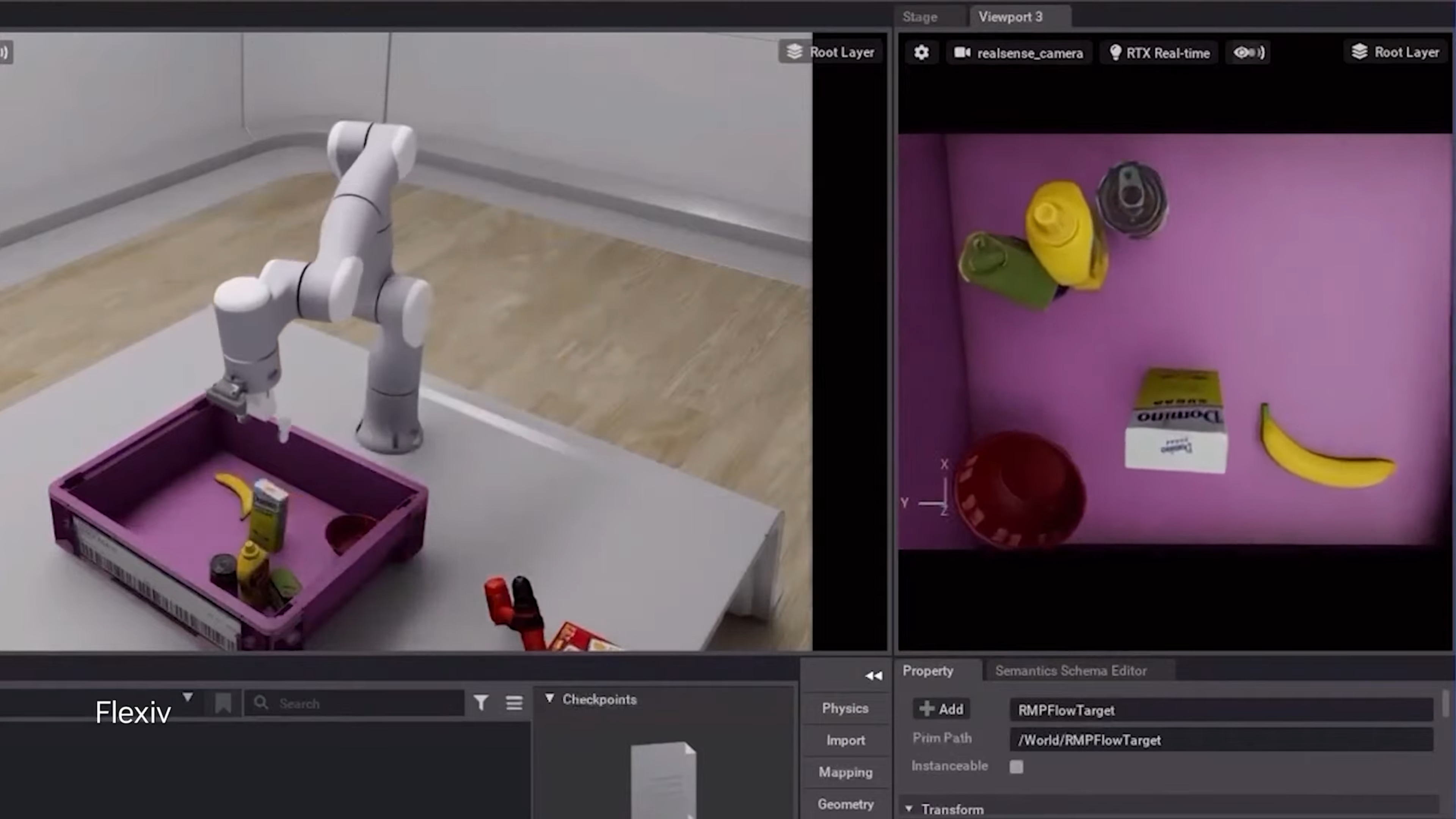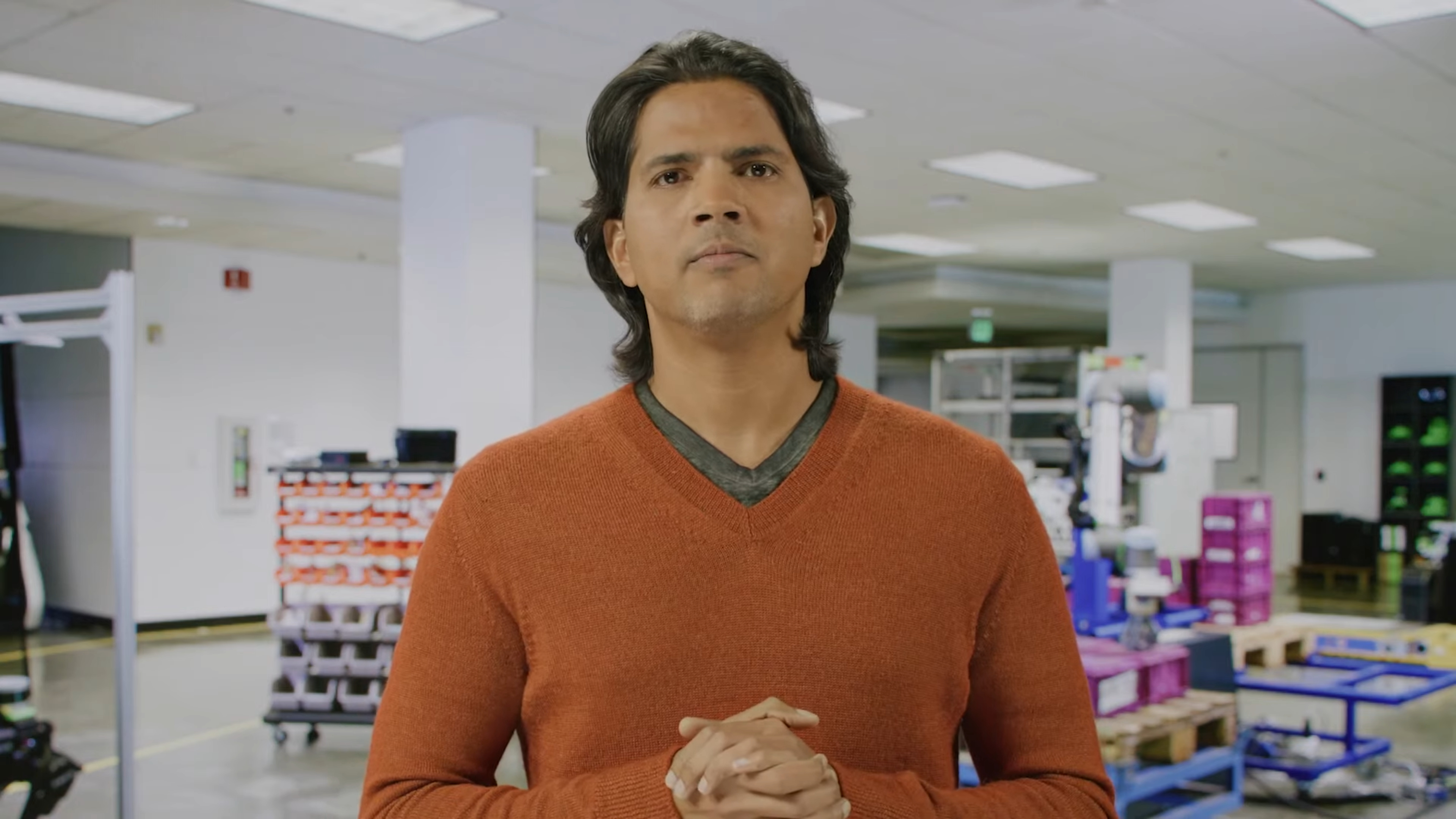 Nvidia Isaac robotics is another area that's been talked about a lot… which we haven't really followed. If you're interested, check out the source video at about the 30 minute mark.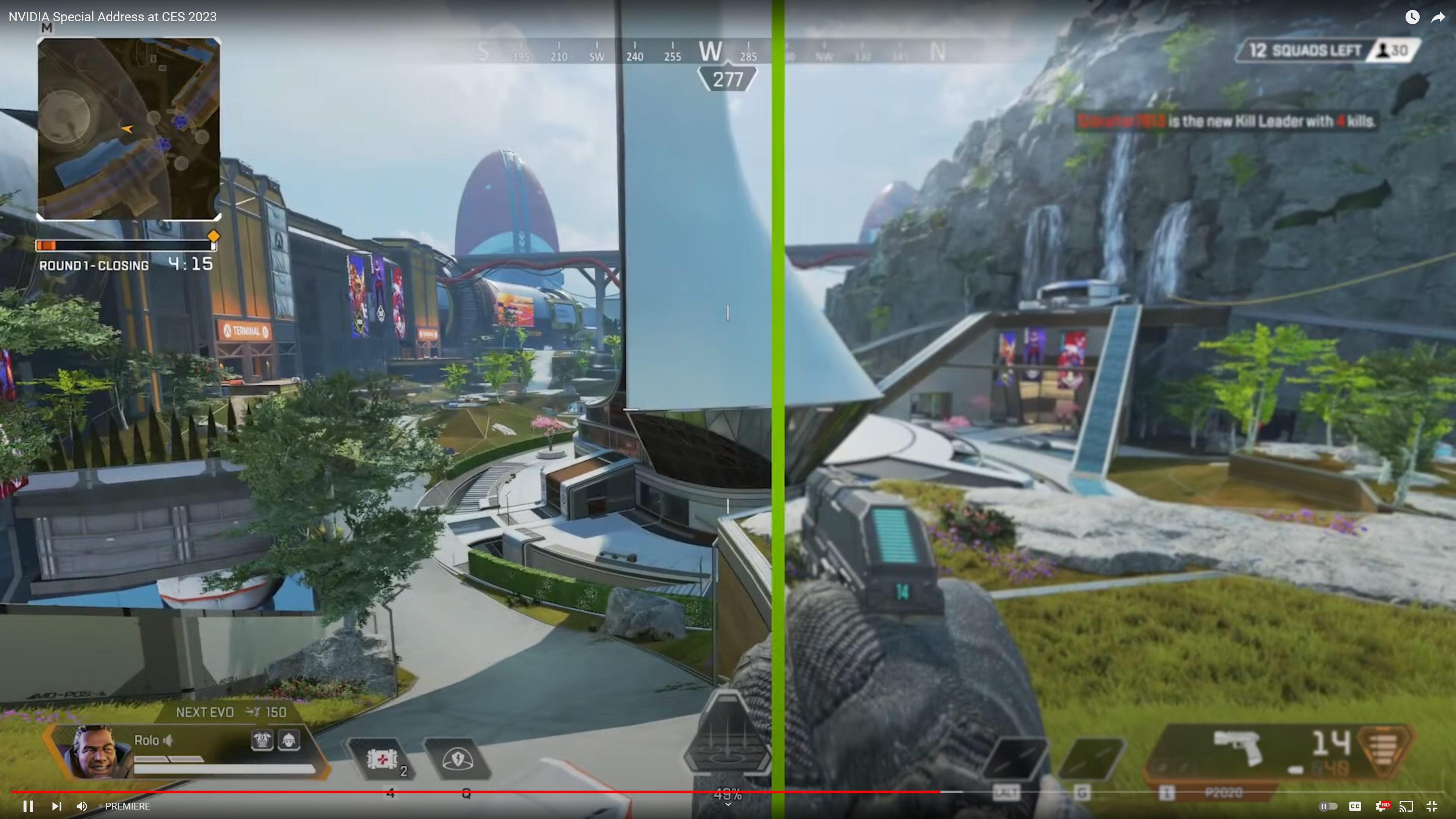 Another new feature from Nvidia is DLSS Video. Nvidia says over half of RTX users have higher resolution displays but are "stuck" with 1080p video streams. DLSS Video will allow upscaling to 4K for such users, though we'll need to see how the resulting quality compares in real use.
Unlike gaming DLSS, getting motion vectors, z-buffers, and other inputs for video isn't possible. It's possible to calculate some of those, though not perfectly. Video upscaling solutions have been around for decades now, with varying levels of quality, but certainly the idea of using machine learning and DLSS to improve the resulting quality holds promise.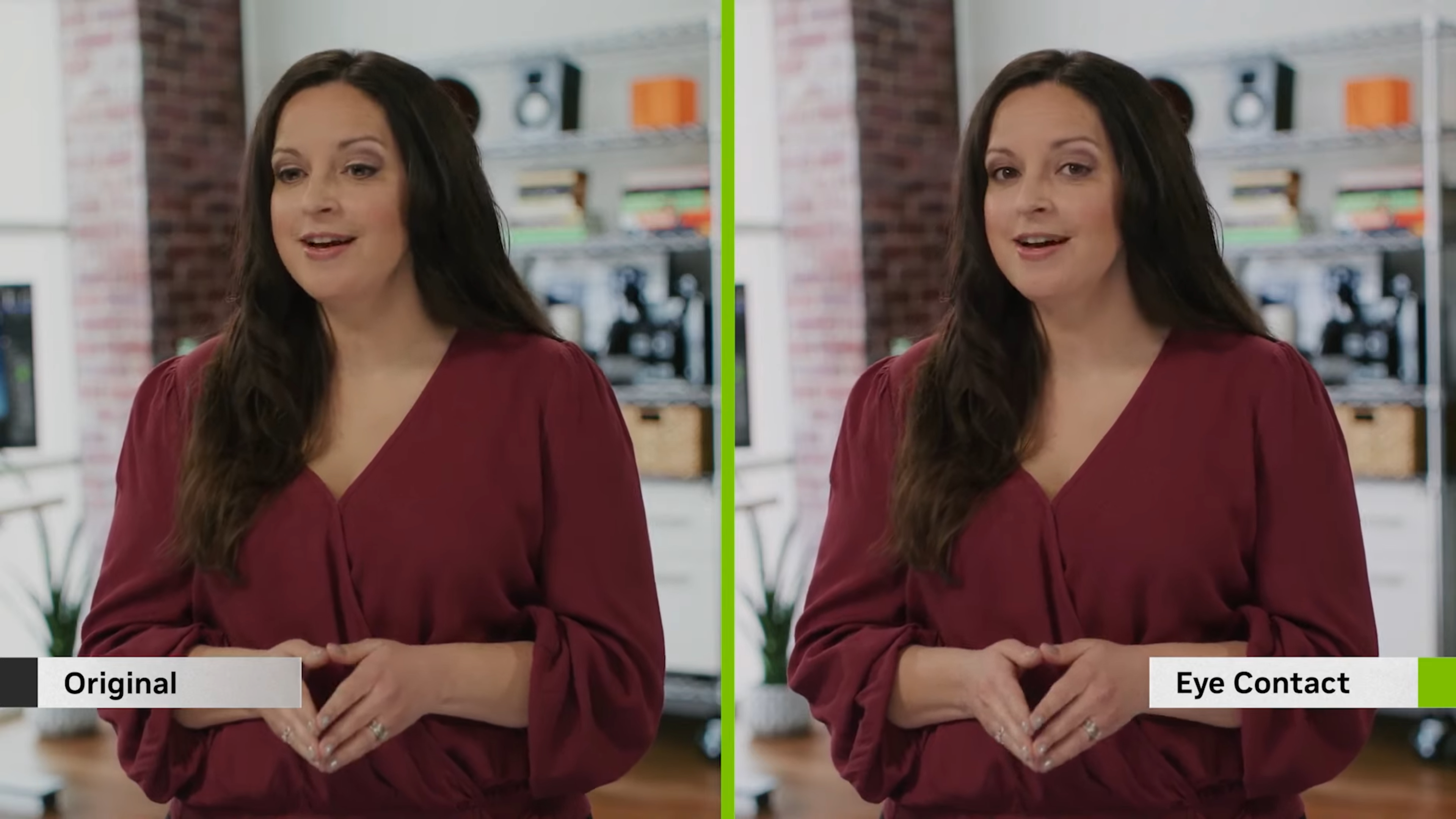 Next up, Nvidia's Eye Contact feature will finally — finally! — be coming to Broadcast next month. We've heard about this for quite some time, but it's been under continued development. That's presumably because it needed more work and tuning, but it sounds like Nvidia has reached the stage where they're ready for public use.
Basically, Eye Contact will let you look away from your camera and will make it look like you're still watching the audience. It's an interesting idea and something I definitely want to try, though I'm cautious of what the end results will be. Sometimes, Broadcast causes a few issues on noise removal, but we'll see if Eye Contact does better.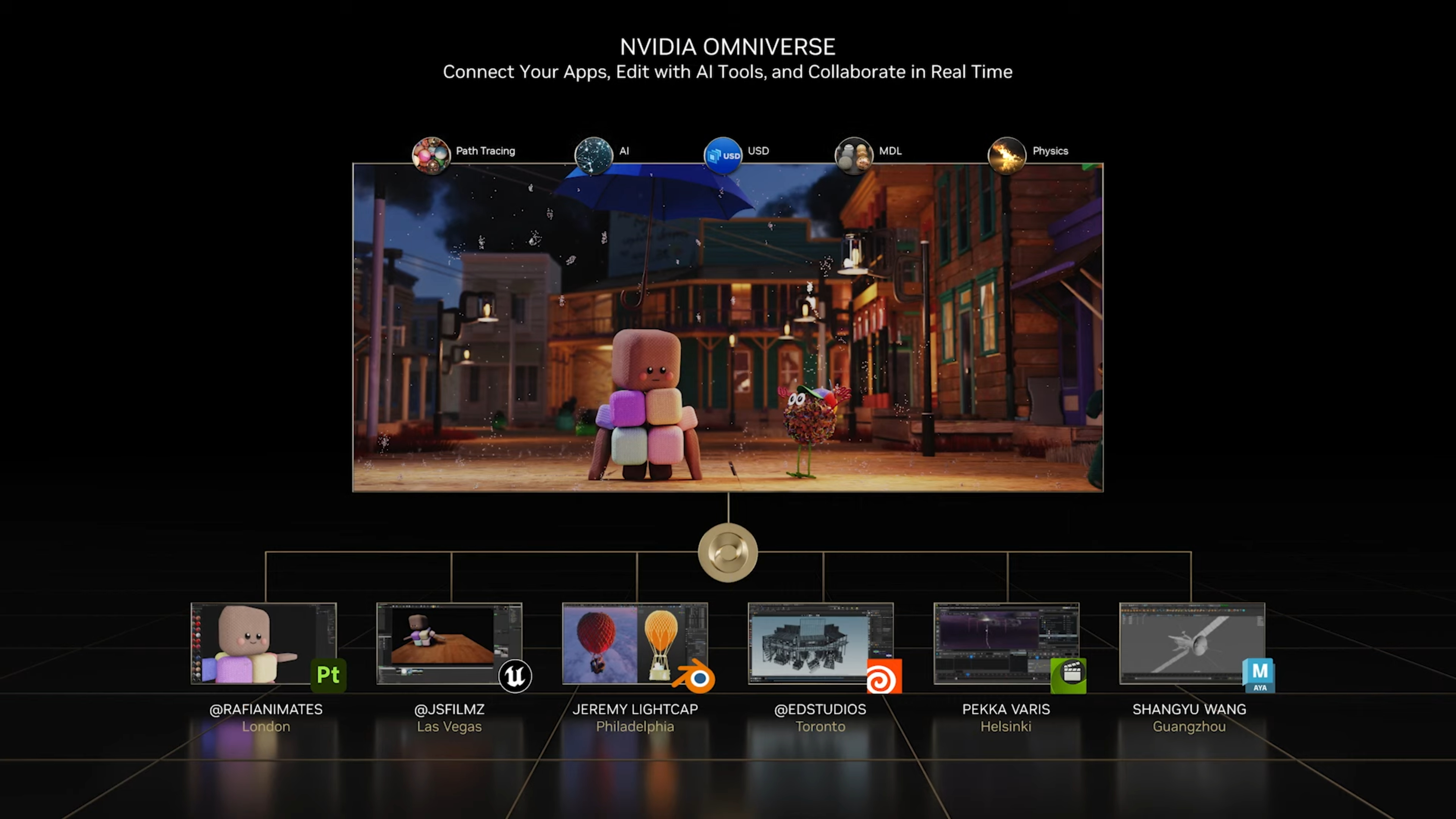 Nvidia has been beating the Omniverse drum for several years now, and it's no surprise to see it take a central role in today's keynote. Intended as a collaborative cloud environment that brings all the power of Nvidia's RTX platform and software to bear on content creation, we've got a "live" demonstration of a group of artists scattered across the globe working on a short animation. Nvidia calls this a "jam session" collaboration and hopes to get more users subscribed to the platform.
Omniverse has plug-in support for numerous popular content creation applications, including Adobe, Autodesk, SideFX, and Unreal Engine, with more being added on a regular basis. As the session progresses, we get call-outs for things like Maya, Shapes XR, Xsens, and Blender. There are also not at all staged statements like "RTX is insane" and "I have the 4090, so it renders particles really well" — just in case you weren't clear on this being a heavily Nvidia promoted sequence.
And there he is! Toy Jensen steps onto the scene, complete with the overly prominent scar on his left cheek. Anyway, Omniverse offers some powerful tools for creators, and if you're in that group you've probably already checked it out. If you're just interested in gaming and GPUs, there's not much new to discuss, but we'll no doubt continue to hear about it for many years to come.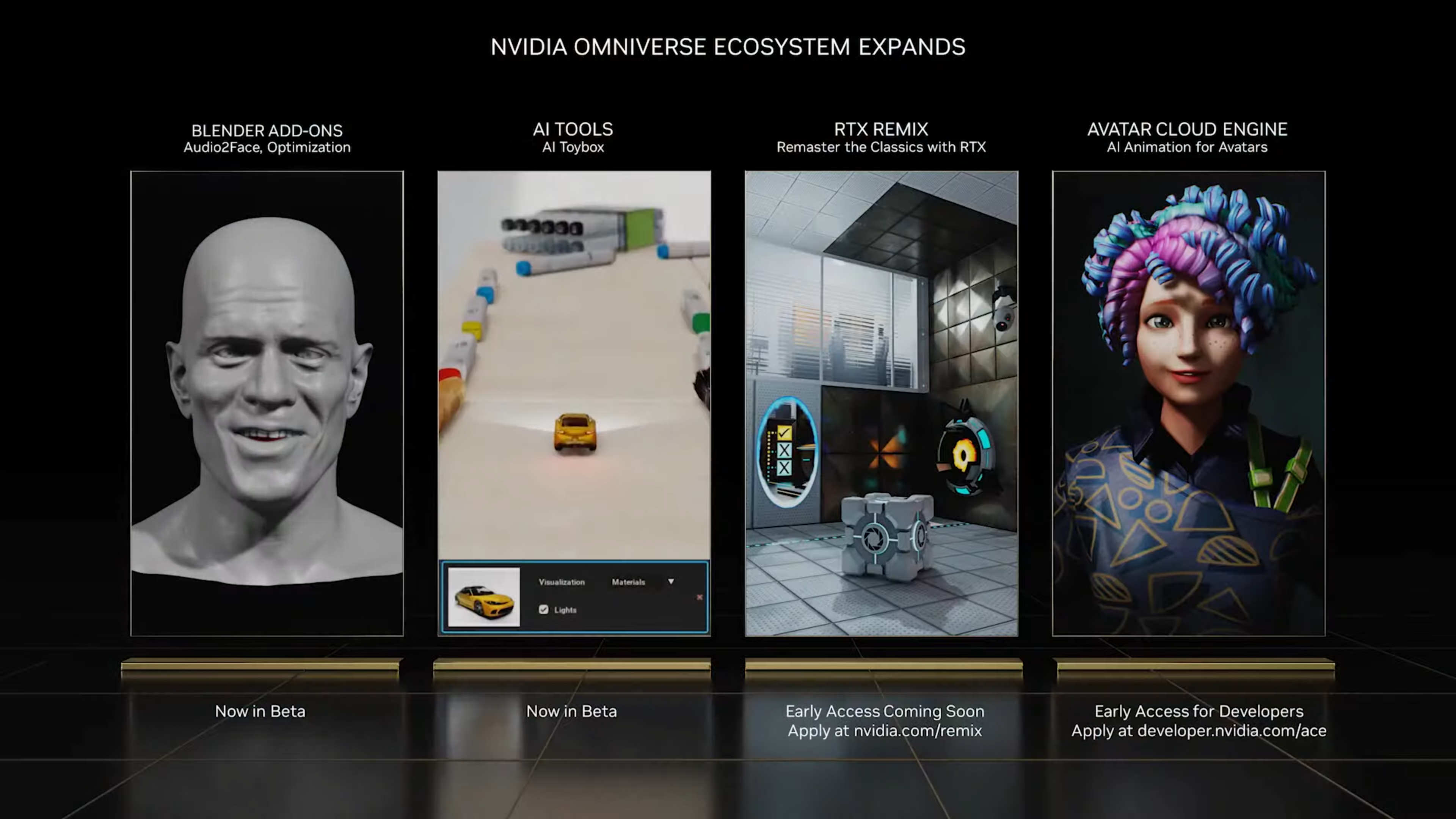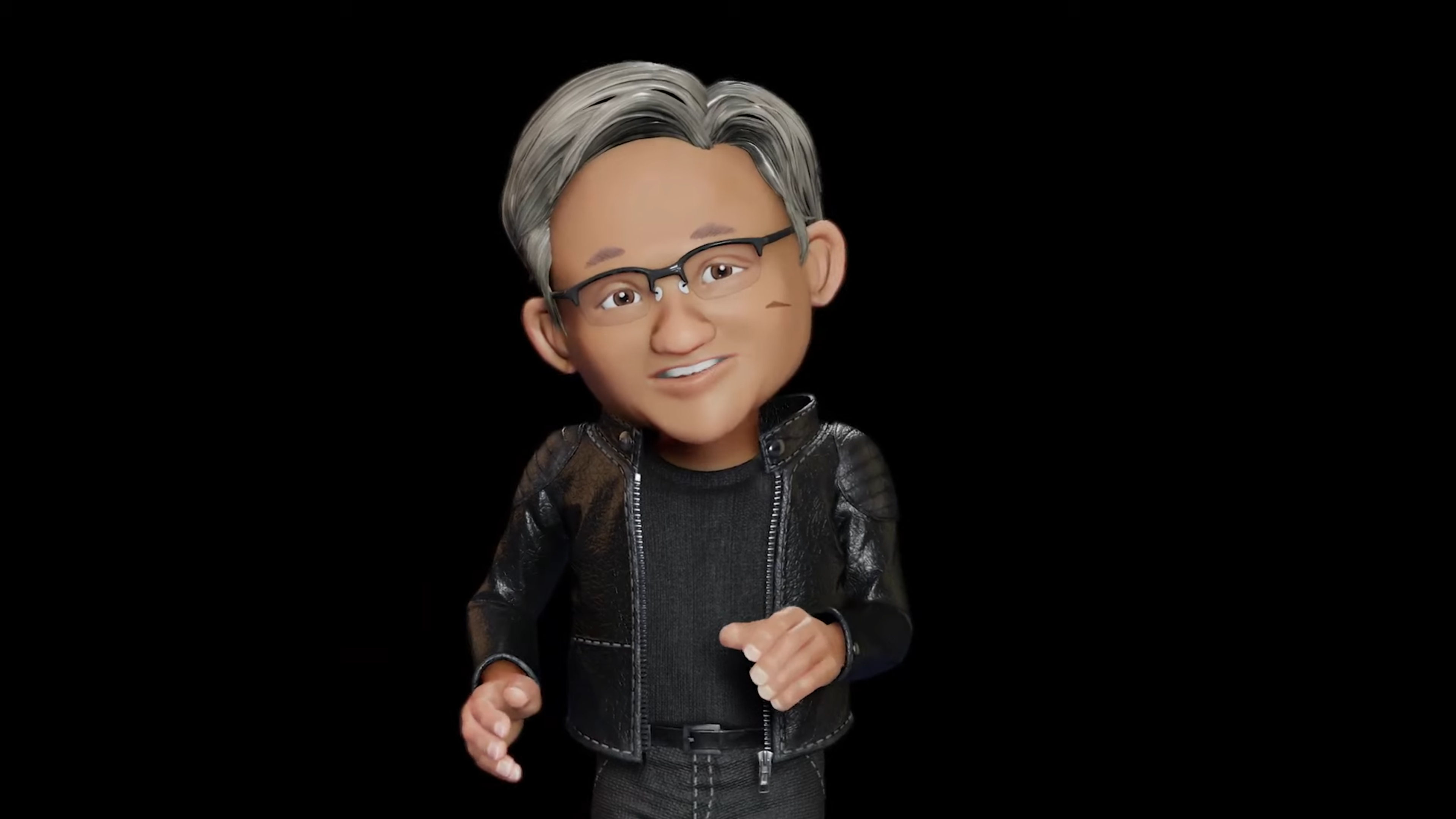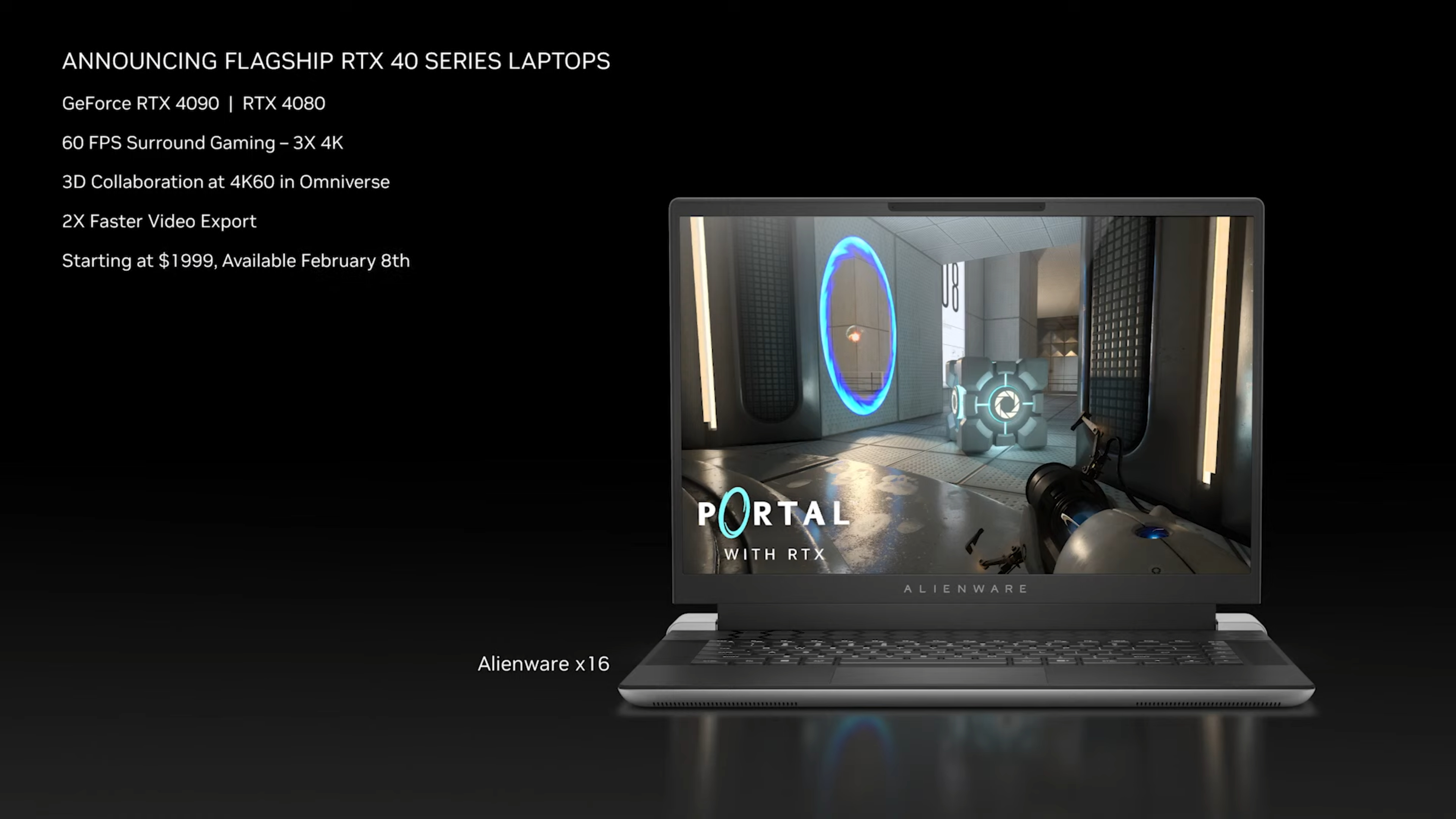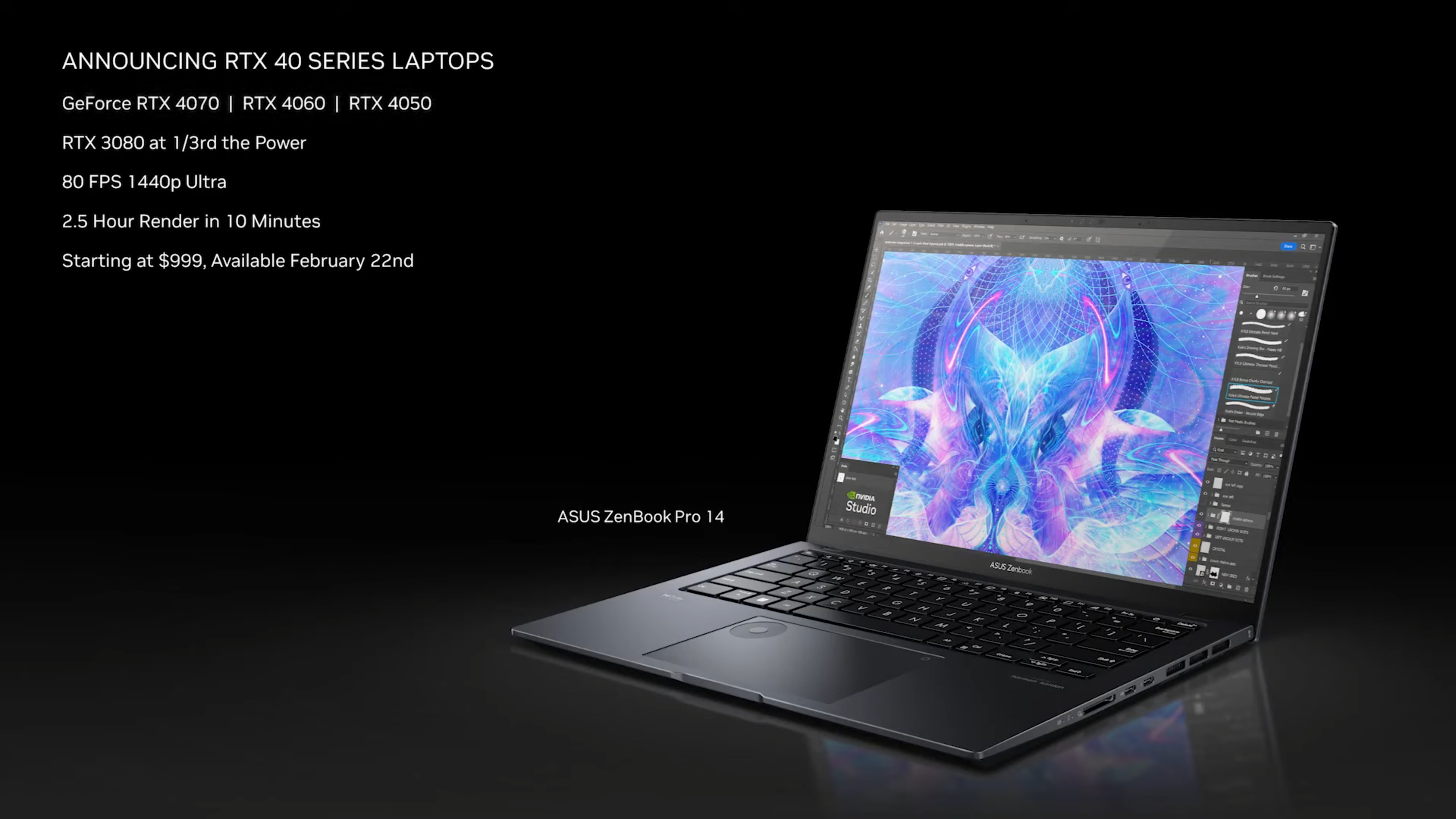 Of course RTX 40-series desktop cards aren't the only thing Nvidia is talking about. Next up we have the official announcement of RTX 40-series laptops, with RTX 4090 and RTX 4080 laptops coming in February starting at $1,999, while 4050, 4060, and 4070 laptops will also come in February with prices starting at $999. Ada offers some great efficiency improvements, and as usual you can expect greater gains when you're not trying to max out performance.
We showed with our RTX 4090 efficiency testing that you can cut power use by up to 150W while only sacrificing about 10-20% of the base level of performance. The laptop GPUs will naturally employ such tactics, though it's important to note that you won't be getting the same GPUs as the desktop parts. And again, DLSS 3 comparisons are used to inflate the potential performance improvements.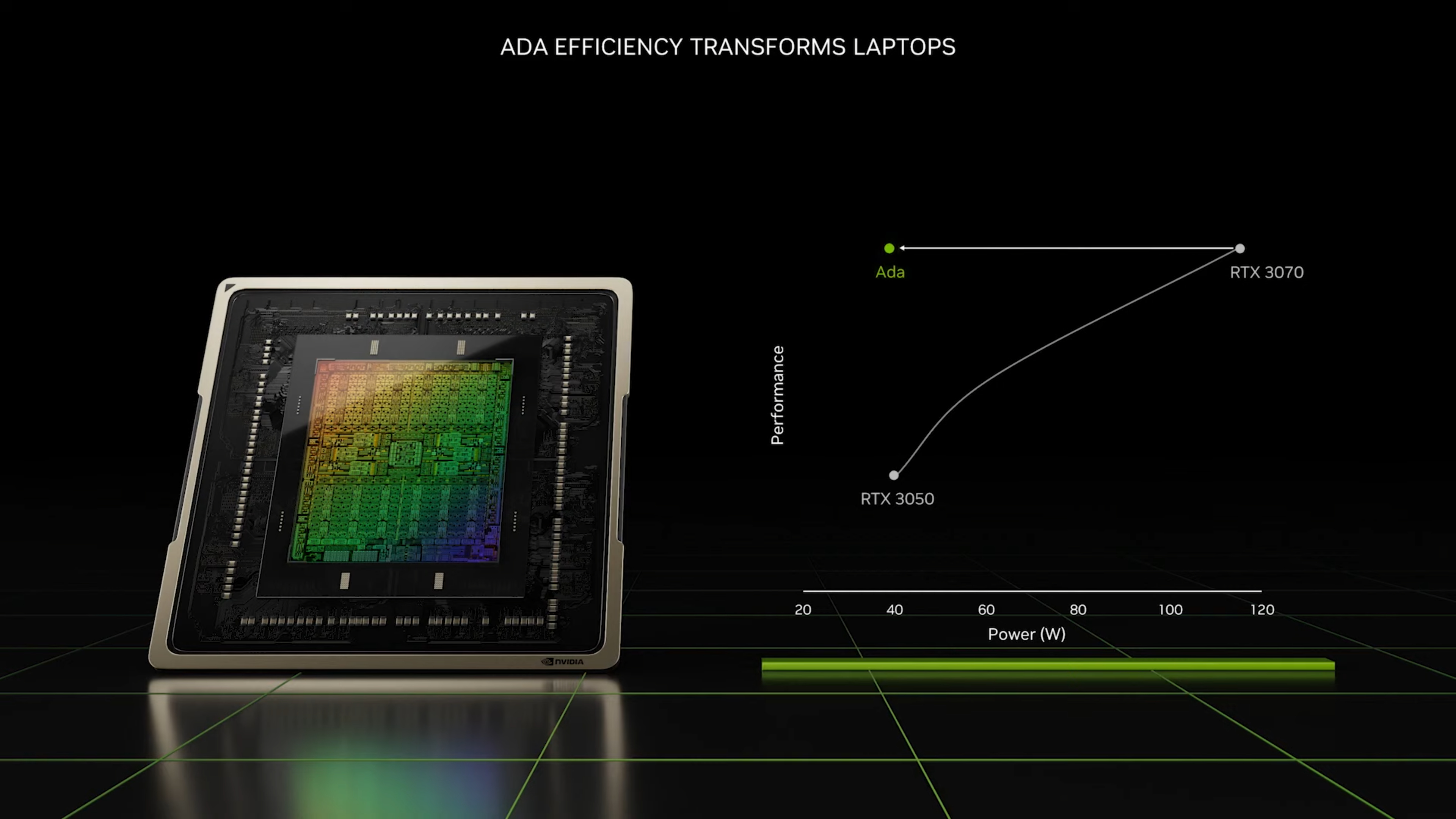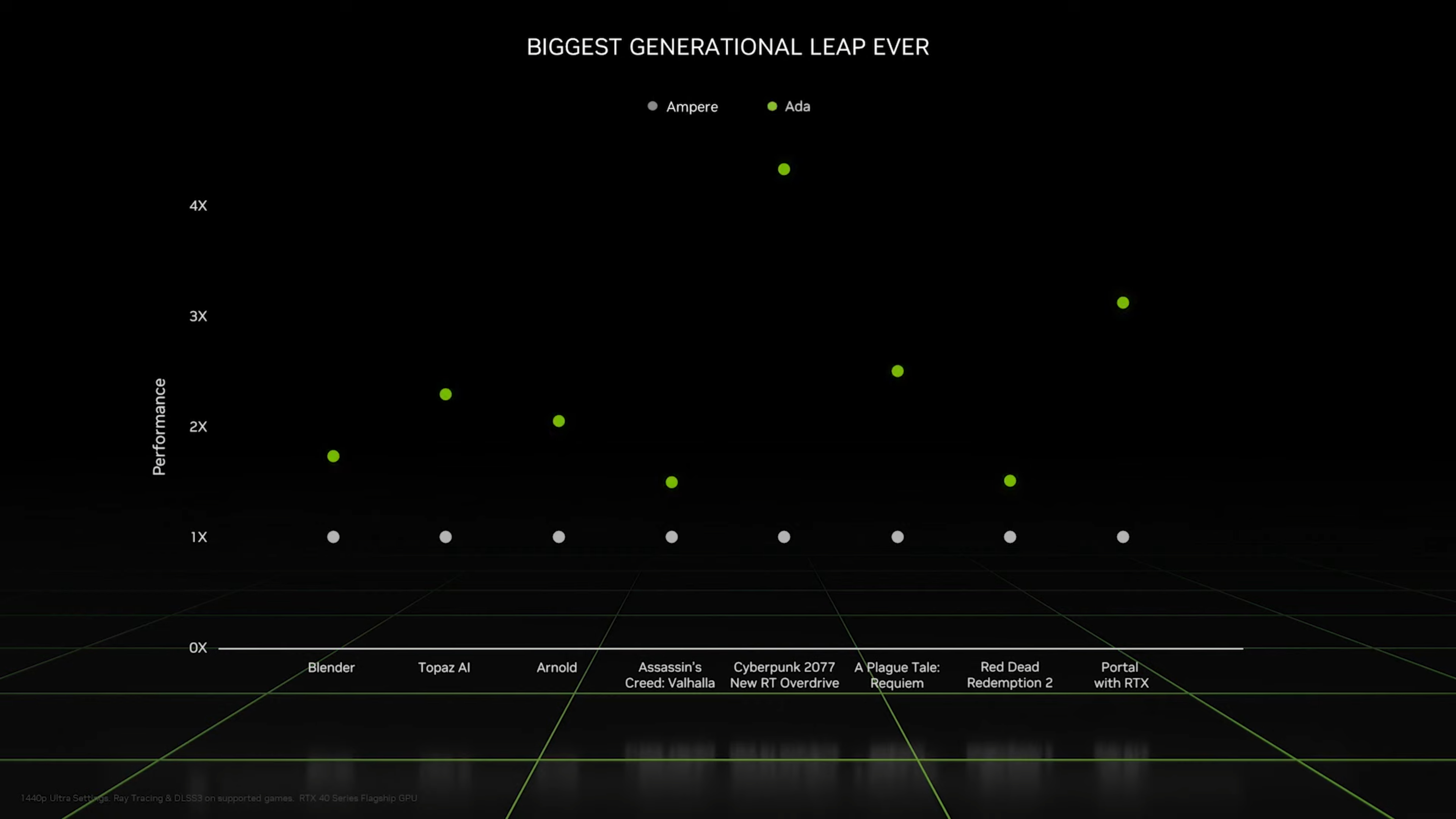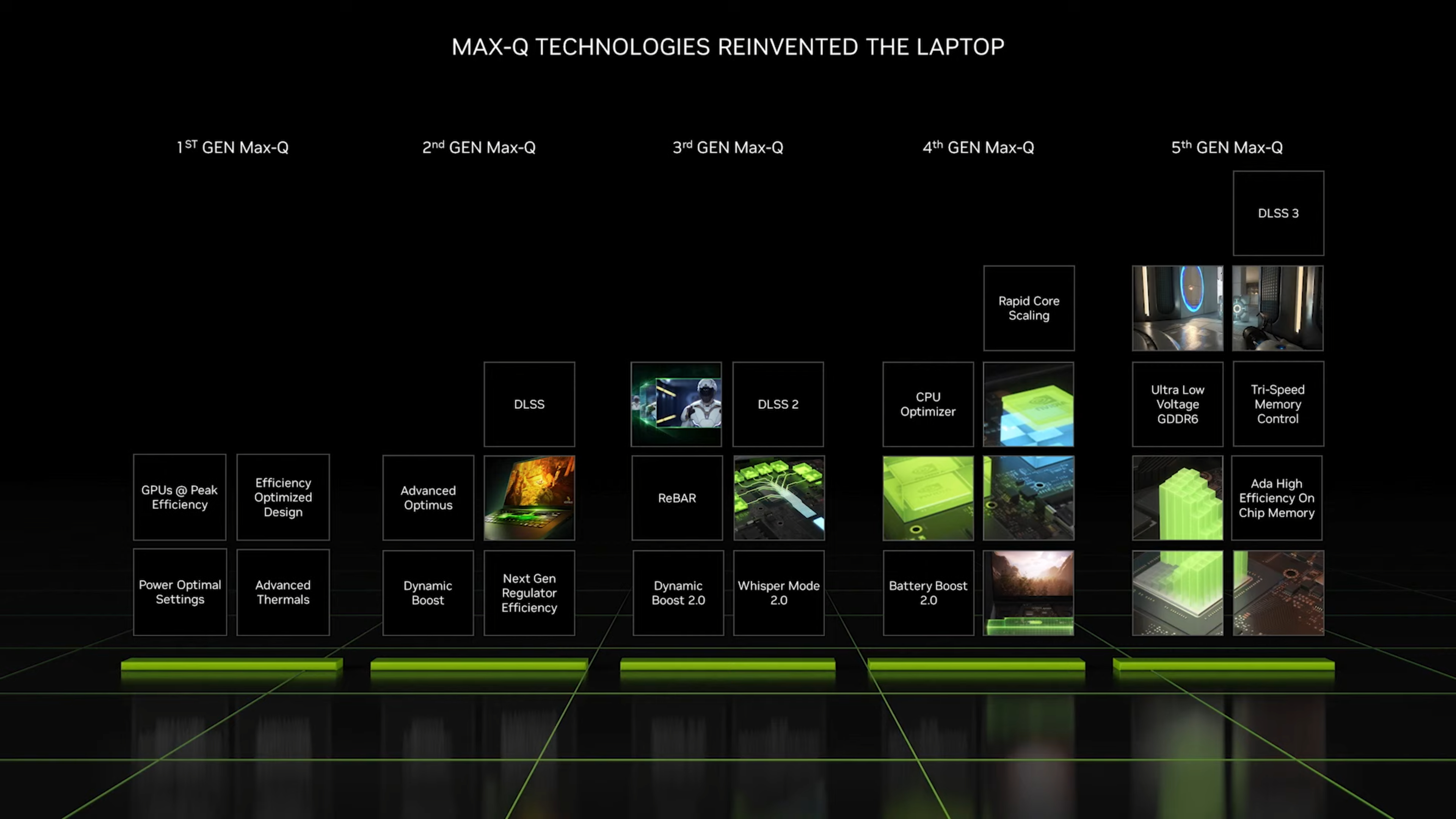 Nvidia is also discussing "Max-Q" again, it's technology that basically targets maximum efficiency for mobile GPUs. There are new features with 5th generation Max-Q, with ultra low voltage GDDR6, tri-speed memory control, DLSS 3, and Ada's significantly larger L2 cache sizes.
This will allow even 14-inch class laptops to pack the new RTX 40-series GPUs, though we'll have to wait and see how those actually perform — and how hot they run. It's not clear yet what specs the new mobile GPUs will use, but you can expect the 4090 to mainly appear in larger 17-inch and perhaps 15-inch models, while the 4070 and below will be a better fit for 14-inch laptops.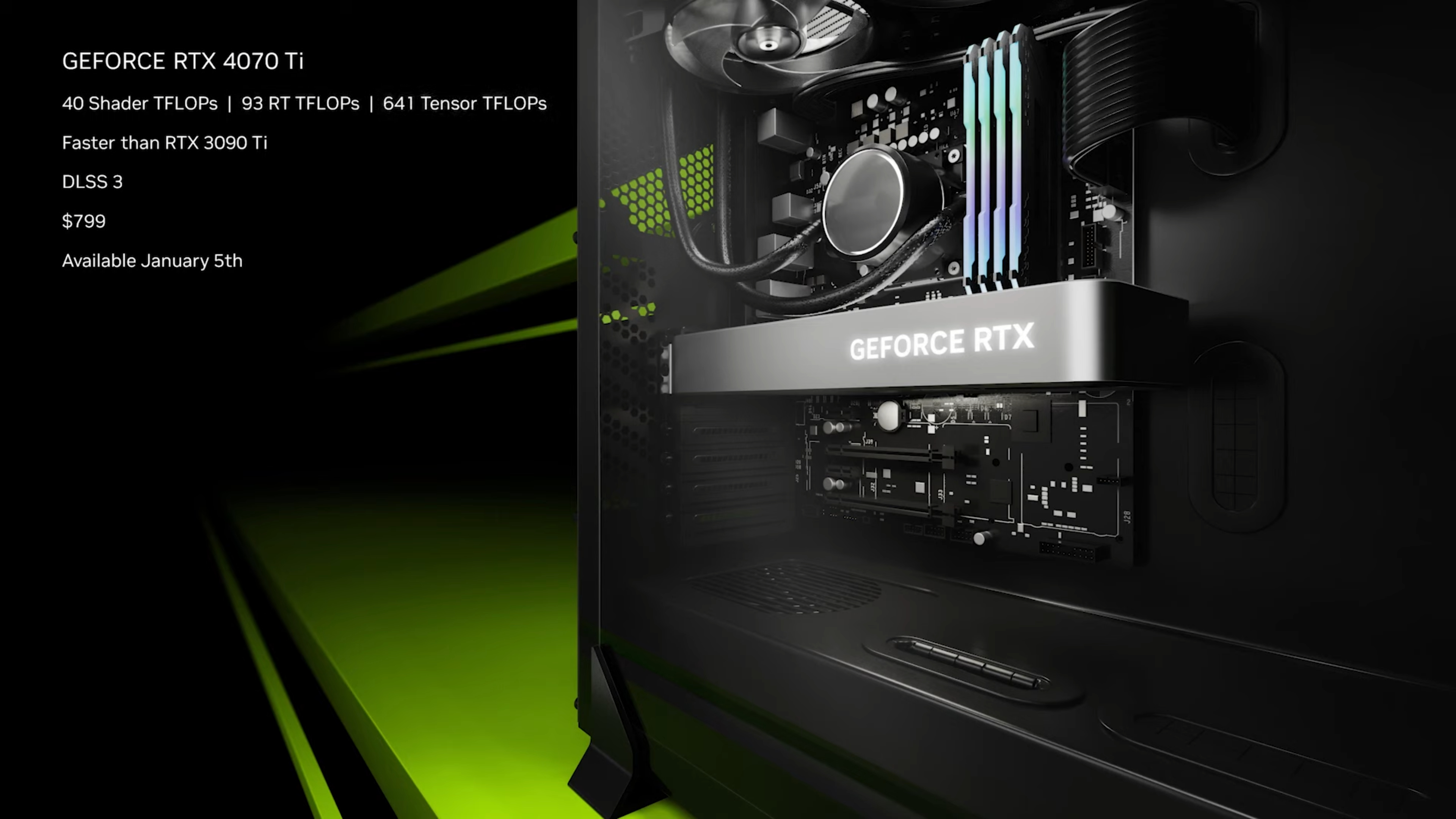 And here we are, the RTX 4070 Ti. It will start at $799, $100 less than the previously cancelled RTX 4080 12GB. Is that enough? We're going to have to push that to the full review, which will be up by the announced launch date of January 5.
The core specs weren't revealed, but the 40 teraflops figure matches what was said of the RTX 4080 12GB. Naturally, Nvidia used games with DLSS 3 support for a performance comparison, which is also potentially very misleading. Yes, DLSS 3 Frame Generation can double performance in some cases, but it's not without compromise.
As we noticed in our testing of Portal RTX, if the base performance isn't high enough (meaning, well above 30 fps), Frame Generation doesn't improve the experience. On an RTX 4090 at 4K, Portal ran at just over 20 fps. Frame Generation (without upscaling) increased performance to over 40 fps, but the game still felt like ~20 fps. But it does potentially smooth out the delivery of frames to your monitor, so if you're running at 40~60 fps normally and DLSS 3 pushes that to 60~120 fps, it does tend to look and feel slightly smoother.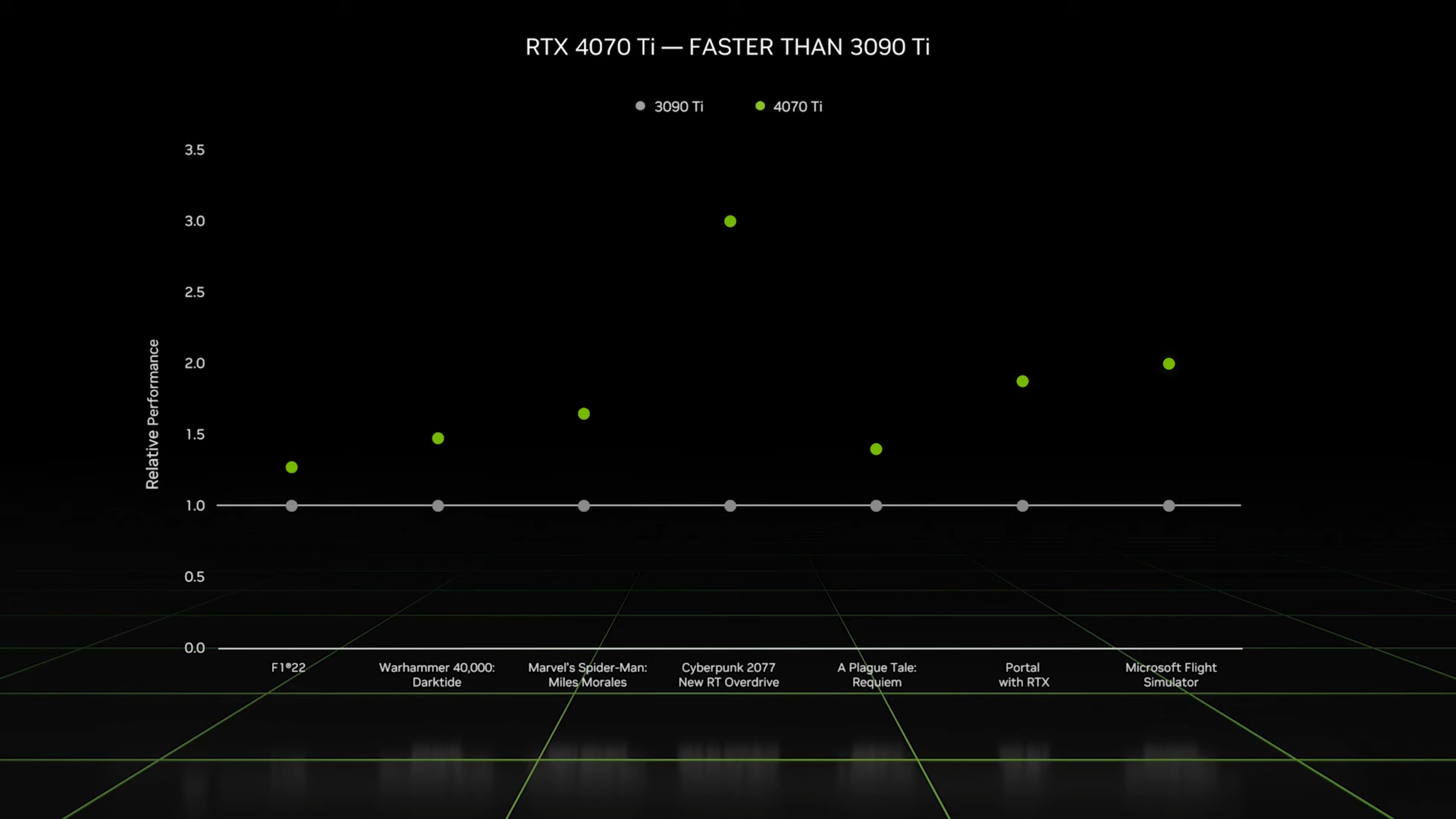 We'll have a full look at the RTX 4070 Ti shortly and see where it lands in terms of performance without factoring in DLSS 3. That will be more telling for a lot of people than hypothetical 80% performance improvements over the RTX 3090 Ti while using "half" the power. Check back soon for the full details.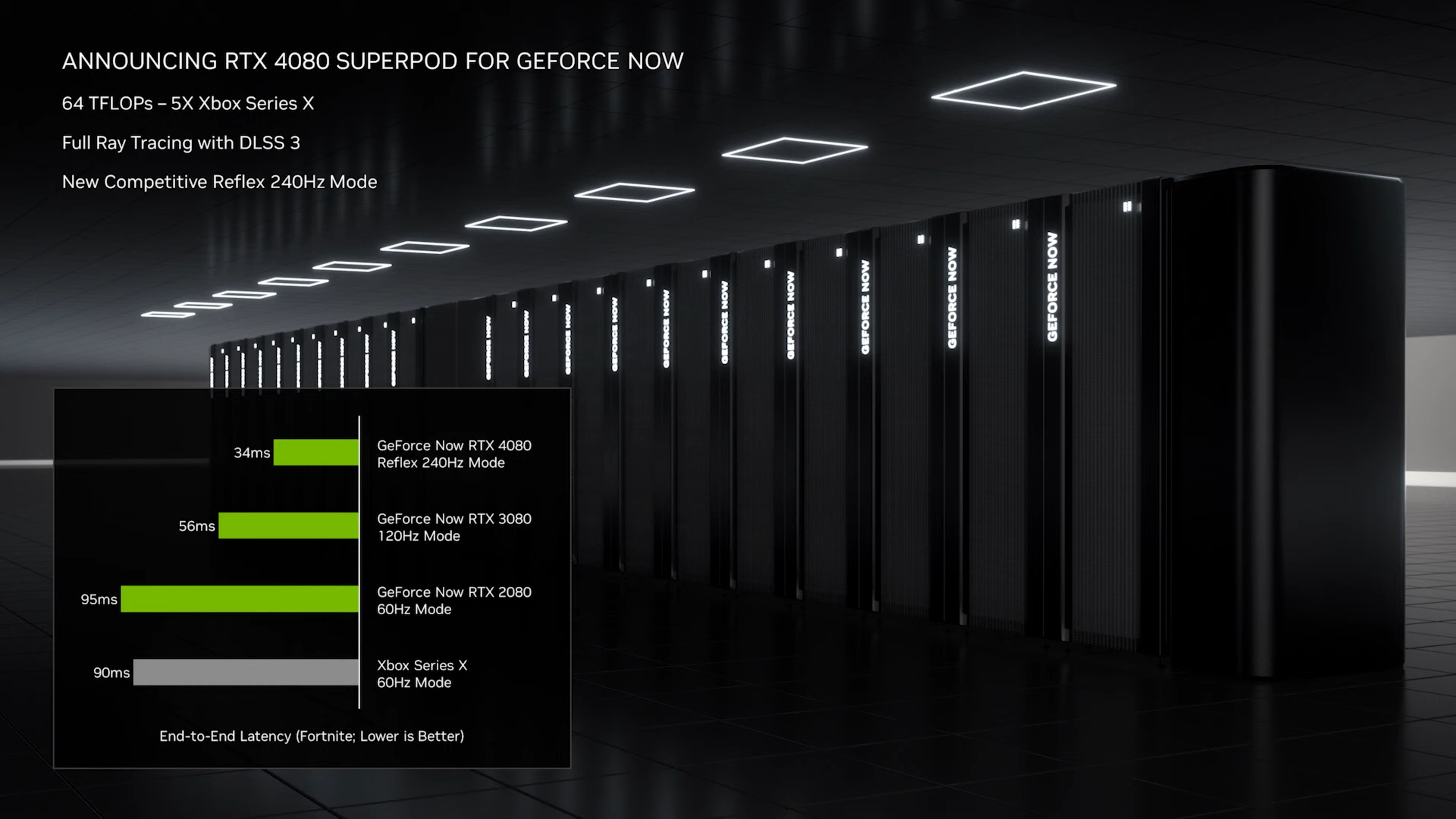 Next up in the gaming sequence is new GeForce Now information. That's Nvidia's cloud gaming and streaming service, which supports streaming to PCs, laptops, Macs, smartphones, Chromebooks, and more.
Ada Lovelace is coming to GeForce Now in the near future, with a new "Ultimate" tier that will replace the existing GeForce Now RTX 3080 tier. This will feature RTX 4080-level hardware (or its data center equivalent, at least), with a free upgrade to all existing 3080 subscribers — once it comes to your local data center, at least. It will be a staggered rollout, and it will keep the $19.99 price point.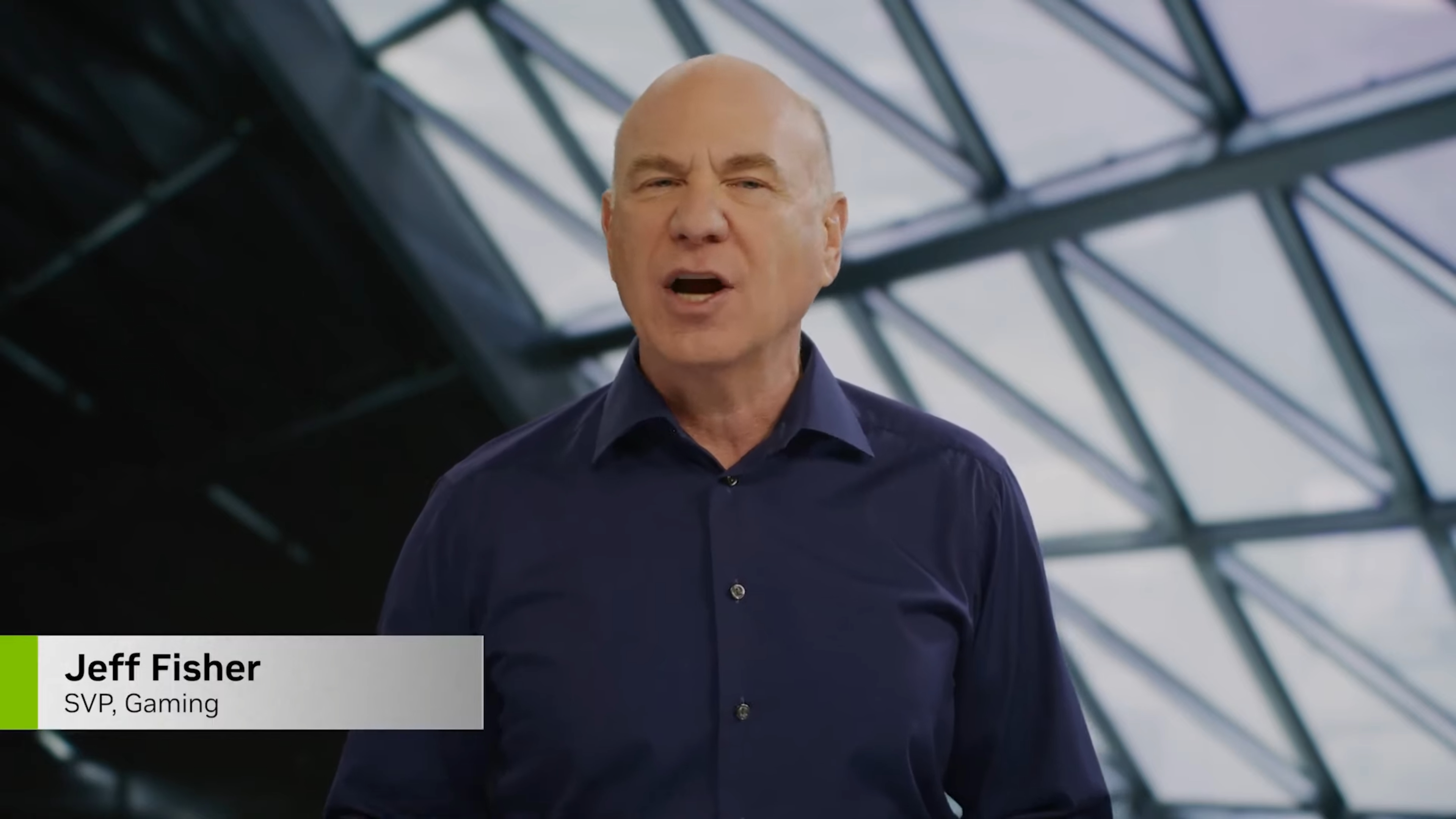 Well, this is a bit of surprise. Apparently, we won't be getting CEO Jensen and will instead have Jeff Fisher, SVP of Gaming at Nvidia, as the main host. He's jumping straight into the good stuff with talk of last year's Ada Lovelace architecture launch and the RTX 4090 and RTX 4080.
DLSS 3 plays a big part of Nvidia's plans for the RTX 40-series, which on one level makes sense — it's a feature exclusive to the new GPUs. At the same time, rendering errors, increased latency, and somewhat hard to quantify changes in performance leave us with plenty of questions. Fisher says the next major update to DLSS 3 will be coming in the next few months, so we'll have to see if that addresses any of our concerns.
At the same time, the adoption rates for DLSS 3 are rather impressive. Dozens of games have already been announced, and Fisher took a moment to show new gaming sequences from a bunch of upcoming games that all support DLSS 3.