Police are stepping up synagogue patrols in certain areas of New Jersey after someone in a ski mask threw a lit Molotov cocktail at one in Essex County overnight in an apparent attempt to burn it down, authorities say.
No one was hurt in the 3:20 a.m. Sunday incident at Temple Ner Tamid in Bloomfield. According to police, security footage shows a man walk up to the house of worship with a Molotov cocktail, light it, then throw it at the door.
The glass bottle broke but no damage was reported, according to police. The suspect then fled down the driveway. Cops released a surveillance image of the suspect, which shows him wearing a ski mask (below).
The congregation said it was working with local Jewish groups and the Anti-Defamation League in response to the attack.
"We have and will continue to do everything in our power to keep our community safe. Everything worked as it should. Our cameras recorded the incident and our shatter-resistant doors held. But what I cannot do, is convince our community not to grow despondent. There is hate everywhere, and hate wins when we let it penetrate," Rabbi Marc Katz said in a statement.
Katz said the temple was helped by recently enhanced security, funded by a grant from the state's Office of Homeland Security and Preparedness.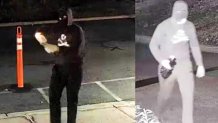 David Saginaw, who heads the Jewish Federation Greater MetroWest NJ — which encompasses Bloomfield's Essex County as well as Morris, Sussex, Union and Somerset counties — said the chief security officer at Greater MetroWest was working with local and state partners, as well as security partners in other Jewish communal groups in New York and New Jersey, on the investigation.
The CEO of Community Security Service, which trains people and offers volunteer security for Jewish events, said attacks like this one are becoming "normalized."
"We have seen a series of serious threats against Jewish people in New York and New Jersey in recent months that were thankfully averted. We have to be aware that the threat level against our communities is increasing, in the United States and abroad," Evan Bernstein said.
Anyone with information is asked to call Bloomfield police. The Essex County prosecutor's office, FBI and ATF have also been notified and a joint investigation is ongoing, officials said. The superintendent of schools in nearby Montclair said the district would increase security Monday as well.
New Jersey Attorney General Matthew Platkin acknowledged the active Bloomfield investigation and also said his office was aware of a separate incident involving a Monmouth County church from Saturday. It wasn't clear if Platkin's office believed there could be a connection, but both cases are being investigated as potential bias crimes.
"We are cognizant of the fact that these attacks have occurred while violence continues to erupt in Israel, and while our own nation reckons with violence at home," Platkin said in a statement. "I want to reassure all New Jerseyans – especially our friends and neighbors of the Black community and the Jewish faith – that law enforcement continues to take the appropriate steps to increase our presence around sensitive places so that everyone in our state can worship, love, and live without fear of violence or threat."
Gov. Phil Murphy also tweeted a statement saying he'd been briefed on both incidents and adding "there is no place for violence or hate in New Jersey."
Last year saw an all-time high in antisemitic incidents and assaults reported in both New Jersey and New York — and a man was just arrested in early November for allegedly threatening temples across the state.
This latest case underscores the ongoing nature of the problem, according to Saginaw.
"This incident comes amidst a climate of intimidation and intolerance, and a rising tide of anti-Jewish hate crimes and hate speech against Jews," he said. "Our Jewish Federation will continue to work with all partners in the community to stand up to hate, build our resilience, and promote safety and security."